Britain threatened by UK jihadist fighters in Syria 'for many years to come' – top police officer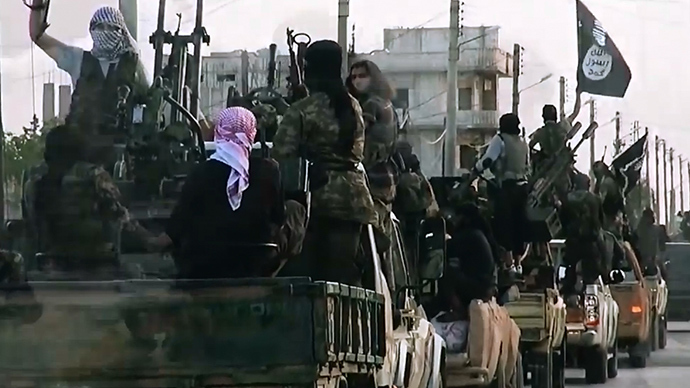 The Metropolitan Police assistant commissioner has publicly declared that the UK faces repercussions from the Syria conflict and threats of Islamic extremism from within its own borders for "many years to come."
Cressida Dick, a counterterrorism expert, said that British Muslims who had gone to Syria may commit violence upon their return.

"I'm afraid I believe that we will be living with the consequences of Syria – from a terrorist point of view, let alone the world, geopolitical consequences – for many, many, many years to come," Dick told BBC Radio 4.

Her comments shortly followed the release of a video attempting to recruit jihadists in Syria which was released online.

Titled "There Is No Life Without Jihad," the propaganda clip uploaded to YouTube by ISIS's AlHayat Media Center allegedly shows a line-up of militants who came to Syria and later to Iraq from all over the world.

Among them were several Britons, including a 20-year-old medical student and his 17-year-old brother. The Muthana brothers' father called on his sons to return home. He told The Sunday Telegraph that they had been high achievers and must have been "brainwashed."

"I feel sick and devastated my son is caught up in this – they were brought up to love and respect my country, Britain. Now I fear they may come back in coffins," he said.

Two men have already been arrested in the UK in connection with their activities in Syria, and are suspected of being part of the same network. A 19-year-old and a 23-year-old were suspected of having received terrorist training. However, they were set free without charges being pressed, South Wales Police released a statement on Saturday.

"We are increasingly concerned about the numbers of young people who have or are intending to travel to Syria to join the conflict. The advice is to avoid all travel to Syria – anyone who does travel is putting themselves in considerable danger. Travelling abroad for the purpose of engaging in terrorist related activity is an offence and we will seek to prosecute anyone engaged in this type of activity," the statement read.

"The issue is not unique to Cardiff or Wales and is a priority for police and security services across the UK," it added.

In the first three months of 2014, some 40 arrests have been made in connection with the conflict in Syria, according to the Daily Telegraph.

Richard Barrett, MI6's former director of global counter-terrorism, told Sky News's Murnaghan show that as many as 300 men who had joined the fighting in Syria had already come back to the UK.

"It's an absolute nightmare [for the security agencies] because with such numbers there's no way that they have the resources to be able to look at all of them," Barrett said.

An estimated 12,000 foreign fighters have gone to Syria since the war began and the war in the country is "likely to be an incubator for a new generation of terrorists," according to one of Barrett's co-authored reports, released this month, the Independent on Sunday reported.