UK urged to give Germany access to RAF base that 'helped spy on Merkel'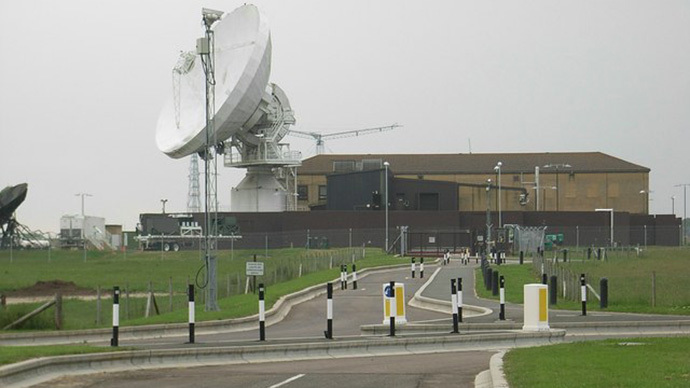 The UK needs to grant Germany access to RAF Croughton military base which reportedly hosts a joint CIA/NSA unit, a Labor MP told British PM David Cameron, urging him to help the German federal investigation of the phone tapping of Angela Merkel.
Labour Party MP Tom Watson has sent Cameron a letter, urging the Prime Minister to facilitate the German investigation into the foreign surveillance of Merkel's phone so that Anglo-German relations are not damaged, The Guardian reports.
In the letter, Watson said that the German federal prosecutor should be given access to Royal Air Force base Croughton in Northamptonshire, which currently serves as a United States Air Force communications station. It has been prompted by allegations published by The Independent that the base hosts a hub for US listening stations in diplomatic missions sending intelligence to Washington.
"There will be no better moment to announce that Britain acknowledges the seriousness of the German criminal investigation; and we will do everything possible to support the work of the prosecutor. Our role in the investigation may be important, given the key role of RAF Croughton in the Defence Information Systems Network (DISN) backbone of the US global information grid. I'm sure you are well versed in the specific allegations [about] RAF Croughton," Watson wrote.
The Independent has said it obtained documents showing that RAF Croughton hosts "tech support activity" by the Special Collection Service (SCS) – a joint CIA / NSA unit reportedly running around 100 listening posts. The posts are said to be coordinated with a scheme overseen by UK intelligence service, GCHQ.
Citing a legal opinion by the public law barrister Jemima Stratford QC, Watson added that the surveillance exposed by the US National Security Agency whistleblower Edward Snowden would be a breach of human rights laws.
The British MP previously wrote a similar letter to UK Foreign Secretary William Hague soon after the allegations on RAF Croughton spying hub were published last November, but to no avail.
According to Snowden's revelations, the NSA and the GCHQ have had a tight and productive cooperation on spying on foreign leaders, with the UK spy agency even teaching its counterpart some surveillance tricks.
The latest Snowden leak on Wednesday revealed that the US has made top-secret deals with more than 30 countries to enable the NSA tap into fiber optic cables carrying internet data all across the world.