German 'NSA-proof' private server raises $1mn crowdfunding in 89 minutes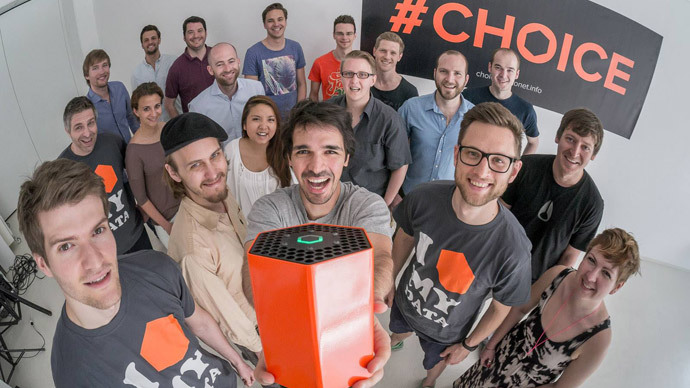 Developers of secure server Protonet asked for some $136,000 on a local crowdfunding website – and were rewarded with $1 million in an hour and a half. The record campaign, one year after Snowden's NSA leaks, ended with more than $2 million raised.
Hamburg-based startup Protonet, which launched its first private cloud device in July 2013 – a month after the NSA whistleblower Edward Snowden revealed the scale of US internet surveillance – on Wednesday proved the spying scandal is still in full swing.

The small team of 23 asked for 100,000 euros in funding ($135,830) to support its products, including a new model of a secure server for small companies, on the German crowdfunding site Seedmatch. While Protonet had already raised twice as much on the same website last year, the developers were amazed at the speed the people responded to their cause.

In just 89 minutes, the startup raised 750,000 euros (over $1 million), breaking the world crowdfunding speed record registered at Kickstarter. The previous speed record was held by the Veronica Mars movie project, which took just over 4 hours to gather the same amount.
.@protonet is getting to its funding limit in just evil speeds - 78 minutes in snapshot - pic.twitter.com/0LKqtTjkVB

— Kjell Otto (@Kjellski) June 4, 2014
However, this time the funders were not looking for entertainment, but instead lined up to buy small orange storage and communication devices, which they hope will protect their enterprises from the prying eyes of the spy agencies. Actually, Snowden's revelations on the activities of the NSA and GCHQ were actively used in Protonet's marketing campaign.

Eventually, the fundraising closed with a staggering sum of 1,500,000 euros ($2,037,450).
Wahnsinn: 1,5 Mio € in 10h & 8 Min! @protonet & die Crowd haben gestern Geschichte geschrieben http://t.co/12m5yYu45Dpic.twitter.com/UpmTyRbPi9

— Seedmatch (@Seedmatch) June 5, 2014
While the private servers do not come cheap, costing between 1,200 euros and 4,700 euros ($1,630-6,380) depending on the model, they are said to be unique in having a built-in Protonet SOUL OS software package, which includes "homegrown" analogues of such services as Dropbox, Skype, and Yammer. The OS itself is Linux-based.

The developers believe that medium and small enterprises should be able to have the convenience of working within a cloud, while not having their data stored on a US server or elsewhere within the immediate reach of the NSA. Protonet devices offer generous storage capacity of up to 16 terabytes.

While Protonet does not promise a totally NSA-immune digital environment, it boasts secure SSL encryption in all the communications within the cloud, which both Snowden and the June 5-launched #ResetTheNet campaign urge users to employ.
Revelations about the scale of US mass surveillance and allegations of the NSA's industrial espionage have prompted huge privacy concerns from European users. German Chancellor Angela Merkel, who allegedly had her personal phone tapped by the NSA, as well as some other EU leaders, have since called for a separate European internet, bypassing American servers.
You can share this story on social media: