UK govt removes Lego from anti-Scottish independence campaign
Published time: 7 Jun, 2014 19:34
Edited time: 26 Aug, 2014 17:12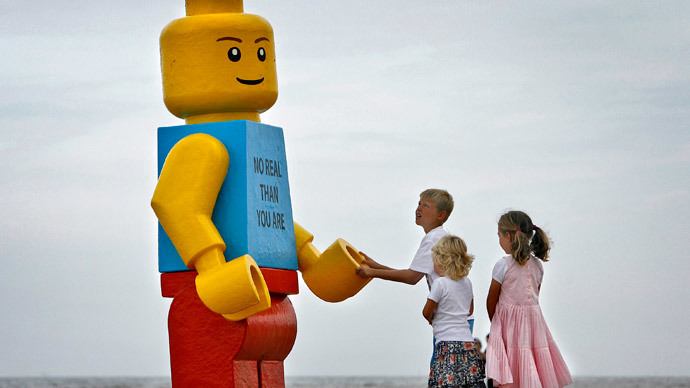 The British government has taken down Lego images used to depict the potential positive benefits of Scotland rejecting an independence vote. The Danish company complained about the use of the toys in a Buzzfeed listicle deemed offensive.
The UK government wrote a list of things that Scottish people could do with the $2,300 per annum they would lose if they opted to vote 'yes' in a referendum on Scottish independence scheduled for September this year.

Among the options were "Scoff 280 hotdogs at the Edinburgh Festival" and "Watch Aberdeen play all season with two mates – with a few pies and Bovrils thrown in for good measure," illustrated with the miniature toys, leading to the general public taking to social media to denounce the piece as offensive.

"We wouldn't give permission for our stock images to be used ... We maintain our position as being a politically neutral company," a spokeswoman for Lego told Reuters on Saturday.
#ukdividend Independence or 280 hot dogs at the Edinburgh Festival? Tough call. #indyref

— p c (@hoddles10) June 5, 2014

While social media users took to Twitter to express their frustration at the sweeping generalizations applied to Scotland by the Westminster government, officials also spoke out.

"It's not surprising Lego want nothing to do with this patronising stunt, and demanded the Treasury remove it from their website. The No campaign's bogus arguments against a Yes vote are being dismantled brick by brick," SNP Treasury Spokesperson Stewart Hosie said, reported a press release on the Scottish National Party's website on Friday.
Seriously? Wow. I'm actually stunned the UK gov would sink as low as this... #UKDividendhttps://t.co/Vfz3HQlMYn

— Steff Potter (@theotherpotter) June 5, 2014

"This is the kind of patronizing attitude to Scotland we have come to expect from the Tory Treasury - presumably the establishment elite think we spend all our time eating fish and chips and pies," Hosie stated.
The images have since been replaced.

While some 40 percent of Scottish voters seek independence, 47 percent of 500 respondents have stated that they would opt to stay in the UK, according to a Financial Times survey. Thirteen percent were undecided.

The paper also found that 50 per cent of Scots thought that their country would regret an independence vote after 5 years.