Scots lose pound if they vote 'yes' to independence in September - Osborne
An independent Scotland will not be able to use the pound as its currency, Britain's finance minister George Osborne warned on Thursday, seven months before Scots vote on a referendum which could end their 307-year union with the UK.
"If Scotland walks away from the UK, it walks away from the UK pound," Osborne said at a speech in Edinburgh on Thursday, in his boldest attempt to keep Scotland from leaving the UK. The Chancellor said a currency union was "unlikely" and would be "extremely difficult".
"The pound is one of the oldest and most successful currencies in the world," he said.
Britain has been ramping up its campaign to keep Scotland from becoming independent, and keeping the United Kingdom a cohesive economic unit. Britain sees more economic benefit in a bigger country and Prime Minister Cameron has said the separatist movement is very "personal" as he himself has deep Scottish roots.
"Nothing could be more damaging to economic security here in Scotland than dividing our United Kingdom," Osborne said. Osborne has the support from Labour and Liberal Democrat party heads Ed Balls and Danny Alexander, an unlikely unifying alliance at Westminster
On September 18, four million people in Scotland over the age of 16 go to the polls and vote on independence. The breakaway movement is led by the Scottish National Party (SNP) and spearheaded by First Minister Alex Salmond.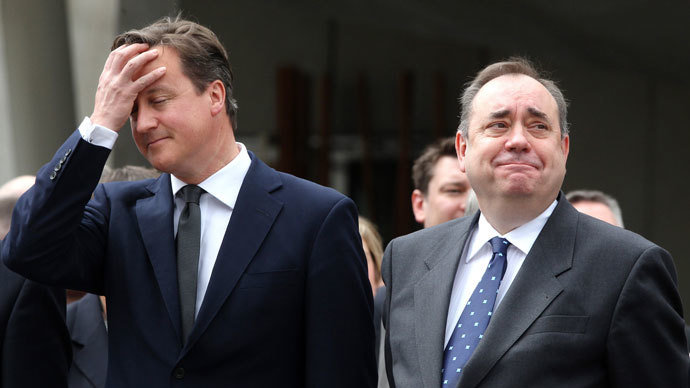 Britain has recently experienced a burst in economic growth, and the economy is now growing at its fastest since 2007. The Bank of England expects unemployment to fall to 7 percent by the spring. Economic outlook for 2014 is overall positive with an IMF forecast of 2.4 percent growth– higher than any other European economy.
The independence movement argues separation would be better for Scotland because they believe it would provide a fairer balance between taxes and spending. Nationalists also want a fair share of North Sea oil, which lies under Scottish waters but is extracted and operated by the UK.
Scotland's road to independence has been weighed down by one very fundamental question: on which currency will the economy run? If the UK sticks to Osborne's statement, then Scotland is left with three options: introduce their own currency, introduce a currency pegged to sterling, or join the euro, an option the SNP has already ruled out.
Scotland's 'Royal' bank
A new Edinburgh government would mean a total economic reshuffle of banks, debt, taxes, and currency.
Scotland has produced an after independence plan, but the blueprint has been rebuffed by Prime Minister Cameron because it doesn't outline fiscal sustainability, or a future currency plan.
Investors will be most interested in the fate of Royal Bank of Scotland (RBS), one of the world's largest banks before the 2008 crisis, and founded in Edinburgh in 1727. There have been rumors generated by comments from top managers at the bank it would move its headquarters to London in the case of a 'yes' vote, but nothing has been confirmed.
On Thursday, Moody's warned it might cut the state-controlled UK lender's credit rating, citing concerns over a likely deterioration of RBS' financial standing.
In 2008, the British government bailed out RBS, as well as HBOS, the nation's two largest banks.
The Treasury expects an independent Scotland would settle its share of government debt, as well as directly reimburse the rest of the UK. This will have to be negotiated with a new Edinburgh government.
In January the UK Treasury confirmed it will take on the full responsibility for government debt if Scotland votes for independence in September.
You can share this story on social media: