Students' choice Snowden takes up post as Glasgow University rector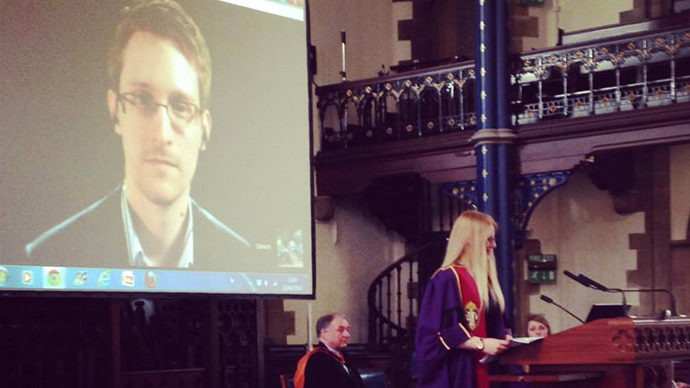 NSA whistleblower Edward Snowden has been inaugurated as the Rector of the University of Glasgow after a sweeping win at a student vote. Over the next three years, Snowden will officially represent the university's students – presumably via the internet.
Glasgow University's splendid Bute Hall was packed Wednesday morning as the students hailed their new rector – the former NSA contractor and CIA employee Snowden.

Snowden, who lives in Russia under conditions of temporary asylum and is wanted on espionage charges in the US for leaking troves of classified documents on mass American surveillance, addressed the students via a live video chat, accepting his position.

"I would say it is a great honor to be part of this today... we are learning the public feel something different," Snowden said, as quoted by Twitter channel of the university's Students' Representative Council (GUSRC).

Stressing that "human rights are not granted by governments but are inherent to our nature," the whistleblower urged the audience to not merely believe in those principles, but also "to speak out."
The procession now leaves the Bute Hall, following the installation of Edward Snowden #gurectorpic.twitter.com/zhReP1cJMx

— GlasgowUniversitySRC (@gusrc) April 23, 2014
For the 30-year-old IT specialist and former security analyst, "speaking out" is not merely words as he repeatedly stressed he risked his life and freedom for starting a national dialogue on an intrusive government surveillance in the US.

In a strong showing of support for Snowden's cause, over 3,300 students voted for him receiving the "influential" post in February. The nearest other candidate, the Episcopalian rector of St Mary's Cathedral in Glasgow, Kevin Holdsworth, got 1,563 votes, while "The Flying Scotsman," world racing cyclist champion Graeme Obree, got 1,412 votes.
All upstanding as that concludes this morning's proceedings.#gurectorpic.twitter.com/1ISm6ODcT4

— GlasgowUniEvents (@GlasgowUniEvent) April 23, 2014
This puts the whistleblower in a long list of the university's rectors, who "often reflected the political feelings" of the students, GUSRC's president, Jess McGrellis, said in a speech Wednesday.

A statement from the student group which nominated Snowden said: "We have a proud and virtuous tradition of making significant statements through our rectors and today we have once more championed this idea by proving to the world that we are not apathetic to important issues such as democratic rights. Our opposition to pervasive and immoral state intrusion has gone down in the records. What is more, we showed Edward Snowden and other brave whistleblowers that we stand in solidarity with them, regardless of where they are."

The group vowed to continue campaigning "for the NSA and GCHQ to cease their assault on our fundamental right to privacy" and for Snowden's recognition "as the courageous whistleblower he is, rather than a traitor."

Answering concerns of some of the students that Snowden will not be able to be a "working" or active rector as he is not leaving Russia, McGrellis said "Mr Snowden is looking to work with the SRC and students to make sure issues at University are not forgotten." She also encouraged students "to get in touch with both our new rector and the SRC to ensure all student issues are raised."
Famous figures who previously occupied the post of Glasgow University rector include Scottish philosopher and economist Adam Smith, French President Raymond Poincaré, several British prime ministers, prominent politicians, actors and journalists. In 1987-90, Winnie Madikizela-Mandela, wife of the late anti-apartheid hero Nelson Mandela, was the university's Rector, while another South African politician, Nobel Peace Prize winner Albert Lutuli, was voted into the post in 1962. While some of those receiving the post actively participated in the university's life, others were unable to do so, treating it rather as an honorary title.

Curiously, Snowden has not been the first whistleblower to become the rector of the university, as in 2004 it was given to former Israeli nuclear technician Mordechai Vanunu, who exposed Israel's nuclear weapons program to the UK media and was subsequently abducted by Mossad in Italy, spending nearly two decades in jail thereafter.

According to the official GUSRC website, "the main role of the rector is to represent the university's students… The rector has a number of key duties representing students. He/she is expected to attend meetings of court, the governing body of the university, to work closely with the SRC, and to bring student concerns to the attention of the university's managers."
You can share this story on social media: