UK teachers face increasing online abuse from students, parents – report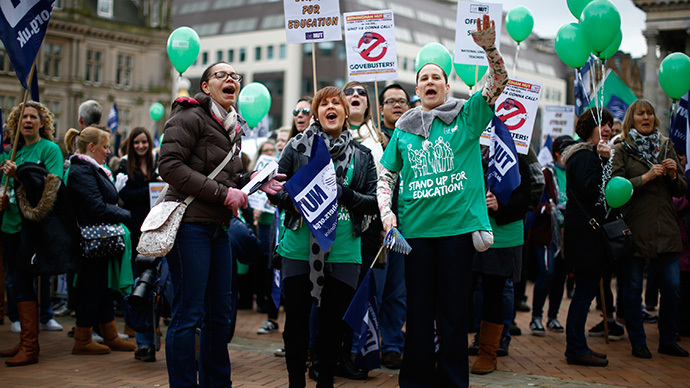 Teachers in the UK are facing an onslaught of abuse on social media sites, including sexual abuse and allegations of incompetence, and have videos taken of them without their consent, according to a new report.
The data, which was released by the largest teacher's union in the UK, the National Association of Schoolmasters Union of Women Teachers (NASUWT), surveyed 7,500 teachers and found that around 21 percent of those said they have had abusive comments posted about them online.
The majority of those comments were made by students, but parents were also responsible for a hefty amount of participation.
"In its second annual survey of teachers, more than a fifth (21 percent) of respondents reported having had adverse comments posted about them on social media sites and of those, 64 percent were from pupils, 27 percent were from parents and 9 percent by both pupils and parents," NASUWT said in a press release.
The language used was usually offensive and targeted teachers' "appearance, competence, or sexuality."
Most of the abusive remarks were posted by high school students on Facebook. Other social media used included Snapchat, YouTube, Twitter, and Instagram, as well as review site Ratemyteacher.
Half of the surveyed teachers who experienced comments from students said the statements included remarks about their performance. Forty-seven percent received general insults. More than one-quarter had videos and photos taken of them and posted online without their consent.
Parent's weren't innocent either; 57 percent of their comments online consisted of insults, while 63 percent dealt with teachers' performances. Seven percent of the comments included threatening behavior.
In one case reported by the Independent, a student tweeted: "You are a paedo (pedofile) and your daughter is a whore." In another case, a student posted on Facebook that he wanted to kill his teacher, inviting other students to join him.
The very public wave of online abuse has been making an impact on teachers' abilities and mental health.
"Teachers are often devastated by the vile nature of the abuse they are suffering," said the general secretary of NASUWT, Chris Keates. They "are often traumatized by the attacks made on them through social media. Some have lost their confidence to teach once they see foul and personal remarks made by pupils in their classes and have left the profession."
"Others have been so disturbed by the comments that their health has been affected," Keates added.
One of the major problems pointed out by the survey is that most of the teachers do not report the online abuse to their schools or police. The majority feel that nothing can be done or that their complaint would not be taken seriously, NASUWT explained in the report.
In cases where teachers did report the abuse to the school, 40 percent stated that no action has been taken against the students and 55 percent said that no action was taken against the abusive parents. The numbers are even worse in cases that made their way to the police; over 76 percent of the time, no action was taken in either instance.
NASUWT argues in its report that schools should adopt new policies, including tougher sanctions that could be implemented against students and parents and a better system for removing offensive material from websites.
The teacher's union also noted that educators need to be encouraged to report cases of abuse to the police.
You can share this story on social media: