10,000 racist slurs posted on Twitter ever day - report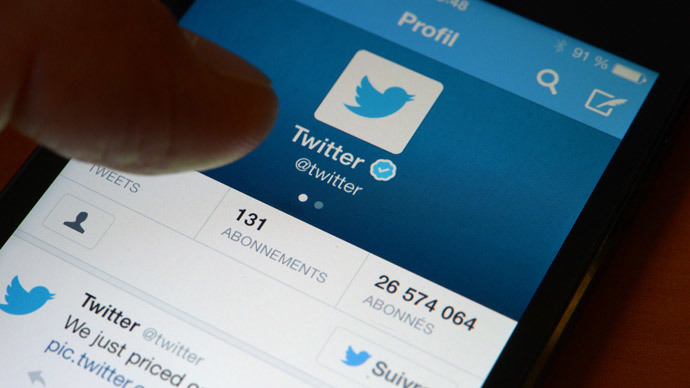 Up to 10,000 racist tweets are sent every day, a new study has revealed. Researchers came to the conclusion after analyzing some 126,975 English-language tweets from across the globe over a nine-day period.
Roughly 160 million tweets were being sent in English per day at the time of the research being undertaken. In total, roughly 14,000 of those contained at least one of the slurs searched for, research by the UK's leading cross-party think-tank, Demos, showed.

"The medium of Twitter provides an unprecedented source of data for studying slurs," researchers emphasized in their report, with the ten most common terms found in the data set (in order of prevalence) 'white boy', 'Paki', 'whitey', 'pikey', 'nigga', 'spic', 'crow', 'squinty' and 'wigga'.

According to the Anti-Social Media study, the top five slurs account for over 75 percent of relevant tweets. The most prevalent term in the data set, however, was 'white boy', appearing in 49 percent of tweets.

The researchers have also stated that of the 10,000 tweets employing racial and/or ethnic slurs every day, 7,000 are employing them in a non-derogatory fashion.

Slurs are most commonly used in a non-offensive, non-abusive manner: Between 50 and 70 percent of tweets were used to express in-group solidarity or non-derogatory description.

"If casual use of slur terms is included in the human analysis (as in 'pikey' being interchangeable with 'West Ham supporter'), the proportion rises to about 50 percent,"the report stated.

The researchers estimated a prevalence of about one in 55,000 tweets in English that are indicative of racial/ethnic prejudice on the part of the sender.

"Of these apparently racially- or ethnically-prejudiced tweets, manual classification of 500 tweets sampled randomly from this group suggested that around 30 percent show casual use of slur terms, with the balance of tweets making comments that are more directly racially or ethnically prejudicial," the analysis showed.

"This suggests a prevalence of directed racially or ethnically prejudicial tweets of about one in 75,000 tweets in the English language," Demos' report stated, adding that according their estimate, at the very most, fewer than 100 tweets are sent each day which might be interpreted as threatening any kind of violence or offline action.

"Targeted abuse and specific threats of violence are violations of our rules, and users can report this type of content from within the Twitter application or at this link on our website," a Twitter spokesperson told MailOnline.

According to the Anti-Social Media study, a number of people use Twitter for one-to-one communication, notwithstanding the fact that the communication is technically viewable by all. As a result, many essentially private conversations are enacted over the popular social network.

"Our working hypothesis is that many strongly invective messages containing racially insulting phraseology are 'snapshots' from essentially private arguments." Therefore, forming a judgment over whether a message reflects an insult in the heat of a personal argument or a more 'considered' racist attack requires more context than is typically available from a single tweet, researchers point out.

The topic of offensive language was last debated in the UK in January, when three men were charged with racial aggravation in connection with chanting the word 'Yid', meaning Jew, at two football matches. The word was allegedly used at Tottenham Hotspur matches against FC Sheriff and West Ham United; fans have ignored police warnings to stop using the word 'Yid' in their chants.
You can share this story on social media: