Scientists urge UK govt to ditch 'dysfunctional' GMO regulations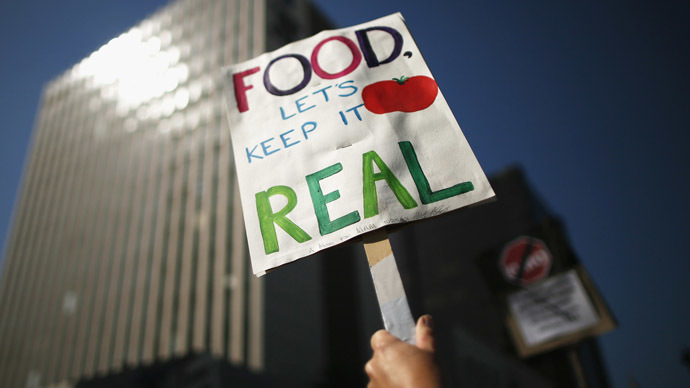 There is no evidence that GM crops are more dangerous than conventionally farmed food, a group of scientists allegedly linked to the biotech industry have advised UK PM David Cameron. Critics say the group is funded by the GM lobby.
In an advisory report to David Cameron issued Friday, senior scientists suggest that approval for commercial cultivation of new GM crops within the EU should be made at a national level, as it is now with pharmaceuticals.

"This would safeguard against potential losses and damage to European agriculture that follow from the failure to adopt GM crops, and enable appropriate regulation of new technologies such as genome editing and synthetic biology for crops," the report says.

According to one of the authors of the document, technology for making crops healthier and more environmentally friendly is developing fast. Therefore, "the regulatory system needs to change to allow us to take advantage of this benefit sooner," Reuters reported Jonathan Jones, a GM expert at Britain's Sainsbury Laboratory, as saying.

Government science advisers warned that current EU rules blocking GM crops may put the UK at risk of being denied access to innovative technologies, damage the country's research sector as well as increase the brain drain of scientists leaving the country. Britain, they believe, should decide itself whether it wants to grow GM crops, which can bring many benefits particularly as the world population is expected to jump to "over 9 billion in 2050" and because of climate change that could result in food security challenges.

It seems difficult to talk about food shortages in the western world when shelves at supermarkets are "loaded with foods from every part of the globe," but pressures on the food supply are increasing, the report says.

"In the UK we have limited agricultural land supply. We need to increase the productivity of the land to optimize crop production in a way that causes the least damage to the natural environment. We can currently afford to buy all the food we need on the open market. We cannot continue to take this for granted," the report's authors said in a letter to Cameron.

They also warned that if "we fail to get more from the land in a sustainable way," people will either go unfed, or more wilderness land will need to be cultivated.

GM crops are now grown in 28 countries, or on 12 percent of the world's arable land, with the acreage doubling every five years. However, in the EU only two GM varieties (compared to 96 in the USA) have so far been licensed for commercial harvesting.
Jumping on the 'GM bandwagon'
Critics have attacked the report, alleging that the scientists behind it receive large grants from the biotech industry to carry out their research. Eve Mitchell of the UK Food and Water Watch writes that the scientists who made the recommendation are "dependent on the GM bandwagon for their livelihood."
Three big holes in new #GMO report http://t.co/6rU6G5fV57 Great comment!

— GMWatch (@GMWatch) March 14, 2014

"Now there's a surprise. GM cheerleaders in the front line today are Jonathan Jones (whose lab receives millions from the biotech industry), David Baulcombe (a "consultant for Syngenta"), Jim Dunwell (a founder of GM lobby group CropGen who claimed on the radio this morning to have "no stake" in the technology), and a handful of others, many of whom hold (or are part of outfits that own) patents on GM technologies," wrote Mitchell in an article on the watchdog's website.

Claire Robinson, editor at campaign group GMWatch, told The Guardian that these scientists' views should be treated with the same skepticism we would apply to a sales pitch because they are not independent of the biotech industry.
You can share this story on social media: