UK Navy ships fires torpedo at nuclear sub dockyard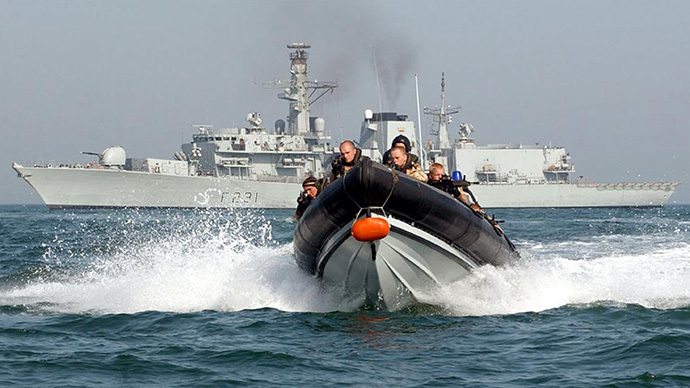 HMS Argyll fired a torpedo by mistake during a training drill at the Devonport dockyard in Plymouth south west England, where nuclear submarines are also docked.
The incident occurred on Wednesday afternoon, during the Navy's Flag Officer Training.
Workers were shocked to see a the 2.6-meter long torpedo shoot out of the side of a ship, fly 200 meters through the air, blast a hole through a security fence and then slam into a metal storage container.
HMs Argyll, a type 23 Frigate, was the one to fire the torpedo during the training exercise, according to the Royal Navy. However the torpedo was a dummy and therefore not armed with explosives.
"We can confirm an incident occurred onboard HMS Argyll… while the ship was docked alongside at Devonport Naval Base in Plymouth. During a training exercise, an inert Test Variant Torpedo (TVT) unexpectedly jettisoned onto the wharf. There was no explosion and no casualties," a Royal Navy spokesman said.
A major investigation has been launched into the incident.
"If anyone was inside it they would have had a nasty shock – the whole side of the container was stoved in. Had the thing been armed it would have let out a 200-meter blast. You could be talking about a major loss of life," a source told the Plymouth Herald.
This is the second armed forces blunder reported by the Herald in as many weeks.
Earlier this month a live artillery shell went five miles off course, narrowly missing a main road and an entire village before exploding in a field near a railway line.The incident happened on Salisbury Plain, where marines based at Plymouth frequently train.
The latest incident comes as the Defense Secretary Phillip Hammond promised £300 million ($500 million) in extra cash for the Royal Navy's submarine construction yard in Barrow in Furness, Cumbria, where the new Trident replacement will be built if the go ahead is given as expected in 2016.
However, navy chiefs have warned that defense cuts mean they are barely able to carry out their commitments, and have warned politicians that the Royal Navy is seriously undermanned.
You can share this story on social media: