Not so Astute: Britain's new submarine flawed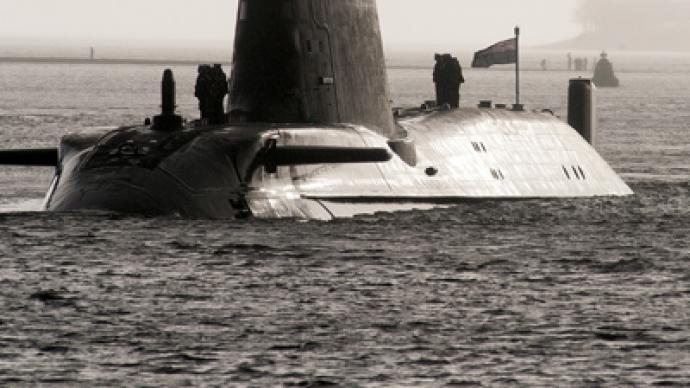 The jewel of the Royal British navy, with a price tag of 10 billion pounds, is showing signs it maybe badly flawed, raising concerns about crew safety, performance and the defense of the nation.
HMS Astute, the nuclear-powered submarine which is running 2 billion pounds over budget, has been confirmed by the Ministry of Defense (MoD) to have had flooding problems while undergoing sea trials. The Guardian newspaper has revealed long shopping list of other issues that could potentially impact on the deployment of this supposedly state of the art machine.
The Astute is too slow. The vessel failed to reach its design speed because of a mismatch between the reactor and the turbine. The military is putting a brave face on the issue saying the vessel is capable of "providing outstanding capability for decades to come". But for now, Astute cannot meet the basic requirements of the hunter-killer group of submarines.
The navy has also confirmed the sub, not formally in service, was flooded and forced to surface, revealing its position, apparently the fault of a corroded metal cap on a cooling pipe.
Monitors for the nuclear reactor on the sub have also come under scrutiny as switchboards have been incorrectly fitted. There are further concerns about inaccurate readings due to the wrong type of lead being fitted to certain power circuits. Although officials have dismissed some of those concerns saying tests showed some of the data was faulty but was not critical to the submarine's operation.
However, military analysts are not so sanguine, "these problems are much more significant than the niggles and glitches expected to arise during the work up of a new class of nuclear-powered submarine. Particularly disturbing is the apparent mismatch between the nuclear reactor plant and the steam turbine sets, putting the submarine speed below par and making her susceptible in the anti-submarine warfare theatre," John Large, an independent nuclear safety analyst told the Guardian.
The submarine's builder, BAE Systems, has described her as "the largest and most able attack submarine that the Royal Navy has operated, with a performance to rival any in the world," however independent analysts have serious doubts about that claim.
"The fact the cap failed is bad enough, but the most worrying thing is that there is no way of knowing whether the submarine has other pieces of equipment like this on board," an unnamed source told the Guardian. "The quality assurance tests are there to make sure this kind of thing doesn't happen, but it did. So what else has been installed that we don't know about? It is impossible to know. They fitted the wrong cap but it was still signed off."
Despite the setbacks the Ministry of Defense hopes that Astute "will be the most technologically advanced submarine ever to serve with the Royal Navy," adding "It is normal for first of class trials to identify areas where modifications are required and these are then incorporated into later vessels of the class."