UK vows $7.8 mln to Syrian rebels, US readies more sanctions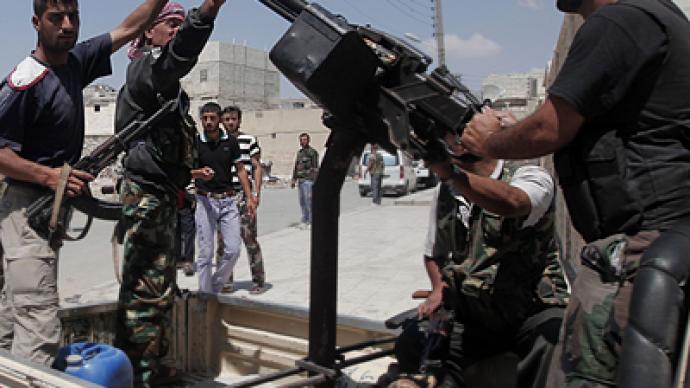 British Foreign Secretary William Hague offered nearly $8 million to Syrian rebels in non-military support while the US prepares new sanctions to target Damascus and its allies. But will taking sides in a civil war only lead to more bloodshed?
Hague promised that the UK would not supply weapons to the Syrian rebels during a press conference on Friday. Rather, the money would be used to buy medical supplies and communications equipment – including  mobile and satellite phones and radar equipment – "to help political activists overcome the regime's communication's blockade and ensure their message gets to the outside world." After meeting with Russian President Vladimir Putin in London on Thursday, he said that Britain had not yet given up on "diplomacy with Russia and China." However, the Foreign Secretary maintained that direct dialogue with the Free Syrian Army was necessary to help coordinate a post-Assad Syria."We're not giving military advice. I think it's very important for us to help prepare for the day after Assad", Hague continued.But Ammar Waqqaf – a member of the UK-based Syrian Social Club, told RT that by increasing "ten-fold its 'non-lethal' assistance to the rebels," the British Government was essentially "taking sides in an internal conflict in a sovereign state."Waqqaf further said that non-military aid was not without its caveats."Even though Secretary of State Hillary Clinton yesterday warned against proxies and extremists being sent into Syria, let us remember Mr. Hague's statement: communication devices will be sent in order to warn civilians against impending government attacks. Now who is going to be warning them? Are there satellite images that are going to be passed to the ground? Will those communication devices really be sent to civilians, or will they be sent to rebels? Will they be used as intended, and who can guarantee that," he warned."We need a little bit more transparency with this," Waqqaf continued.
US ramps up sanctions against Damascus & Co.
On Friday, the Obama administration imposed a fresh round of sanctions targeting the Syrian regime and its allies. The sanctions were placeed on Syria's state-run oil company Sytrol after it delivered US $36 million worth of gasoline to Iran in April, State Department spokesman Patrick Ventrell said. He added that at the same time Tehran was "actively advising, supplying, and assisting the Syrian security forces and regime-backed militias that are carrying out gross human rights abuses against the Syrian people."The United States further announced sanctions against the Lebanese Shia Islamic group Hezbollah for backing Damascus."This action highlights Hezbollah's activities within Syria and its integral role in the continued violence the Assad regime is inflicting on the Syrian population," the US Treasury Department stated.International affairs and defense analyst Lajos Szaszdi told RT that countries openly backing the Syrian rebels have no moral right to criticize others for taking sides in the conflict.While slamming Iran and Hezbollah for backing the Assad regime, the US and its allies have shown support for the Free Syrian Army which "conducts a terrorist campaign with car bombs, apparently with suicide bombers and political assassinations," he stressed.Szaszdi claims that as these nations are officially at peace with Syria, it's a violation of international law and of Syria's sovereignty. "We cannot talk about fairness. These countries that are supporting terrorist activities have lost their moral standing to criticize other countries," he declared.America is also expected to announce an additional US $5.5 million in aid for "Syrian refugees."That brings Washington's total humanitarian aid to US $82 million since the crisis began in March 2011. Secretary of State Hillary Clinton, who is wrapping up a 10-day diplomatic trip to Africa, will attend an emergency meeting in Istanbul on Saturday. She is expected to meet with Turkish government officials and members of the Syrian opposition to discuss the post-Assad transition.
'No winner in Syria'
Increased Western support for the Syrian rebels comes as Free Syria Army fighters have been forced to pull back from strategic districts in the city of Aleppo, the country's commercial capital and largest city.Aleppo became the center of the armed struggle to oust Assad after government forces drove rebel fighters from the capital Damascus this past July.As the Syrian civil war increasingly shows signs of a proxy war between Sunni and Shiite Islam, Christians and Alawites have also become the victim of sectarian slayings.With up to 21,000 people dying since the uprising began in March of last year, violence across the country has led nearly 150,000 Syrian to take refuge in abroad, the UN said Friday. Roughly one-third of total has arrived in neighboring Turkey, with 6,000 Syrians arriving this week alone, Reuters reports. A UNHCR spokesman said "many of the people are coming from Aleppo and surrounding villages."Amidst the bloodshed, UN Secretary General Ban Ki-moon warned "there will be no winner in Syria" on Thursday."Now, we face the grim possibility of long-term civil war destroying Syria's rich tapestry of interwoven communities," Ki-moon's statement continued.The UN secretary's comments were read by a UN representative at a Tehran meeting attended by 28 states on Thursday, including Russia, China, India, and Jordan. Iran said the participants called for a three-month ceasefire.Iranian Foreign Minister Ali Akbar Salehi warned those external forces pressuring Damascus were only "worsening the crisis" at a press conference following the meeting. He further implored the Syrian opposition to sit down with the government to "speed up reforms."
You can share this story on social media: