Military cutbacks may leave UK dangerously exposed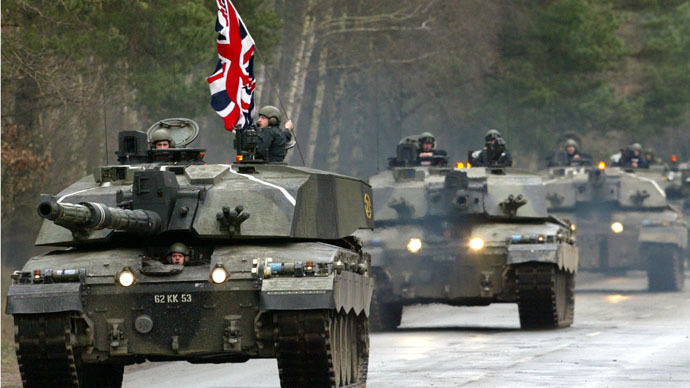 Plans to drastically scale down the UK's military may leave the country unable to handle threats, a group of MPs has said. The military maintains plans to reduce troop numbers are aimed at the creation of a "flexible and agile force."
A report issued by a group of MPs on the Commons Defence Committee on Thursday leveled harsh criticism at the Ministry of Defence's (MOD) plans to scale down the military, in line with governmental budget cuts. The 'Army 2020' restructuring program will see troop numbers reduced to 82,000 in 2018 from just over 100,000 in 2010.

MPs have alleged such cuts are "financially driven" and could leave Britain open to "emerging" and "uncertain" threats and may compromise the armed forces' ability to respond in emergencies.

"There is no question that UK armed forces will deploy on an expeditionary operation in the future," said James Arbuthnot, chair of the Defence Committee, adding the cuts could have "serious implications" for the future of the armed forces.

Of special concern to the committee was the "apparent lack of consultation and involvement." They claimed the new size of the UK's military forces was not part of the original 2010 Defence Review and had not been agreed on with the National Security Council.

Furthermore, the Committee noted that Army General Sir Peter Wall was not consulted for his opinion on the changes, he was merely informed of the cuts by a senior civil servant. In view of this, the MPs called for the government to supply parliament with an accurate report on the Amy's ability to fight before general elections in May of next year.

To supplement reduced troop numbers, the MoD will double reservist numbers from 15,000 to 30,000. Defence Secretary Phillip Hammond said that the measure will ensure the Army remains a "flexible and agile" force.

Hammond slammed the committee of failing to see the Army's need to diversify to combat new threats, such as cyber-attacks.

"It is not possible to maintain traditional regular forces at historic levels while also investing in countering the threats of tomorrow," he said on Wednesday in a statement. "The Army 2020 structure is not simply about a reduction in size, it is a complete overhaul of how the army works to deliver a fully-integrated force, using a better mix of regulars, reserves and contractors."

He reiterated that the plan to restructure the UK's military is aimed at making sure the army has a "sustainable and properly funded future." MPs have warned that if any other cuts are made it could lead to the "unraveling" of the military.
You can share this story on social media: