"I'm not a national hero" – Gamova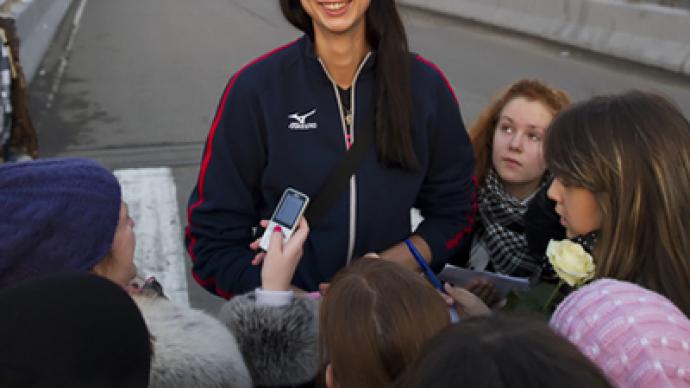 Humble Katya Gamova, who led Russia to victory at the Volleyball Worlds, says she does not consider herself a national hero.
Russia have defended their title, beating Brazil in a five-set thriller in Tokyo, Japan on Sunday. And Gamova has won her team an impressive 35 points in the decider and collected over 200 successful attacks throughout the whole tournament. "I can't say that I gave away all my strength in the final. I wasn't about to fall on the floor after it ended, but the game definitely turned out be a very difficult one – not only in terms of the score, but also in terms of psychological stress. But I don't think of myself as a national heroine, I just did my job and I did it perfectly," Ekaterina Gamova told RIA Novosti news agency. The 30-year-old stressed that winning was not at all easy as she and her partners had to "play to the maximum" in every game to keep their unbeaten record in tournament. "In general, there are only the most positive emotions left after the Worlds. Even if there were some problems or injuries, they were all smoothed by our success," she said.  "However, I am a bit saddened by the empty stands. There was full house only when the Japanese team was playing. Although the arena was packed for the final and it was very stuffy. So from this point of view it's hard to say what's better: to have a huge or a small audience," the volleyball star smiled. Gamova expressed hope that Russia's head coach Vladimir Kuzyutkin would remain in charge of the team after the success.  "Winning this tournament is all to his credit. Although he's the only one to decide whether to stay in the team or not. But we want him to stay with us," Gamova said. The two times World Champion also revealed some facts about the off court life of the Russian team in Tokyo.   "We didn't do anything special on our days off. We just walked around the city, visited to the shops. Shopping is the best medicine for a woman. We were mostly buying souvenirs from the World Championship for friends and family. By the way, we ate sushi only once or twice while in Japan, with soup, meat, fish and rice being on our menu," Gamova remembered. Ekaterina Gamova said that the tournament in Japan was probably the last World Championship of her career, but she will surely be part of the Russian team looking for Olympic gold in London in 2012.
You can share this story on social media: