Battle-ready: Russian Olympic wrestling champ enlists in army
Published time: 7 Nov, 2012 07:47
Edited time: 7 Nov, 2012 12:23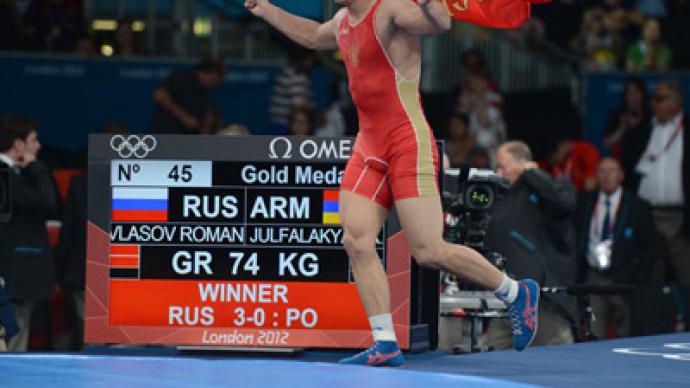 The Russian army has received a surprise boost of Olympic star power: Roman Vlasov, Russia's London 2012 champion in Greco-Roman wrestling, enlisted in its ranks.
­Vlasov, considered the leader of Russia's national wrestling team, won gold in the 74kg category in the London 2012 Olympic Games.
The department head at the Military Commissariat of the Novosibirsk Region, Sergey Kharlamov, told RIA-Novosti that the athlete voluntarily applied to join the army three weeks ago.
Vlasov explained that his military service followed the example set by legendary Russian wrestler Aleksandr Karelin, who won gold medals for three consecutive Olympics in 1988, 1992 and 1996.
"I said: 'Roman, you really want this?' And he answered: 'Of course, one has to bear arms, and San Sanych (Aleksander Aleksandrovich Karelin) said it's obligatory'," Kharlamov explained.
Vlasov was deemed fit for military service after a medical examination, and was taken to the regional recruit collection point on Wednesday.
According to Russian law, the 22-year-old will spend a year in the army, serving in a military unit in the Siberian regions of Novosibirsk or Tomsk.
Vlasov's service won't put a hold on his wrestling career, as he plans to continue training and competing in tournaments in Russia and abroad.
Roman Vlasov, Olympic champion of Greek-Roman wrestling, weight category under 74 kg, at a Bosco Club party honoring 30th Olympic Games winners (RIA Novosti / Ekaterina Chesnokova)