Star tennis veteran Kafelnikov now Russia's golf champ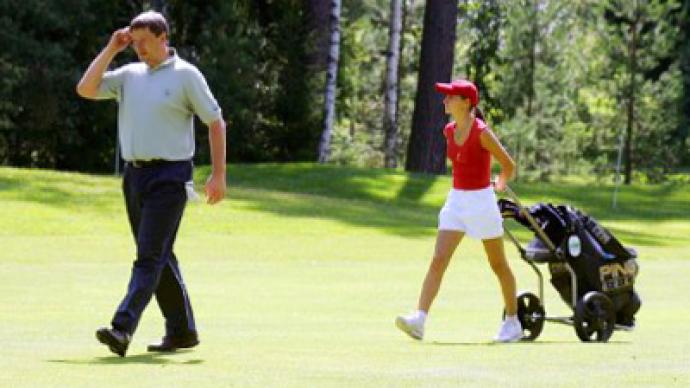 Former world number one tennis player and two-time Grand Slam champion Evgeny Kafelnikov has been crowned Russia's golf champion at the national championship in the Moscow Region.
The 20th national tournament will go down in history as one of the most interesting so far. In the women's event, there was the first ever hole-in-one by Maria Tarakanova on the second day, but there was no surprise in the overall competition, where Maria Verchenova is still the biggest name in Russia. The 25-year-old dominated on the greens from the very beginning, showing solid play. However, the first Russian to achieve full-time membership on the Ladies European Tour did give her opponents a few chances on the final day, but her lead proved to be too comfortable, and Verchenova secured her third Russian title.Meanwhile, the men's competition turned out to be a real cracker. The two favorites who topped the leaderboard halfway through the tournament were disqualified for moving distance markers, and the fate of the Russian golf crown was to be decided on the closing day.In an incredible turnout former tennis world number one and two-time Grand slam winner Evgeny Kafelnikov rocketed up the leaderboard to grab his first professional title.The 37-year-old was trailing by eight strokes, ahead of the final day, but later found his perfect touch to produce an impressive last round, which included six birdies and just one bogey.Despite a pretty modest finish of 15 over par, the Olympic tennis champion is going to boost his golf skills for the Olympics in Rio in 2016."I didn't expect to win, it was a real surprise for me. I'm very satisfied with my score in the last round, as I finished five under par. I love golf, and will continue playing – and it would be great if I could take part in the Olympics in two different sports," he says.With the growing popularity of golf in Russia, championships like this and results like Kafelnikov's are the best way of encouraging those interested in the sport to pick up a golf club.
You can share this story on social media: