Dutch master deprives Russian of super light-weight belt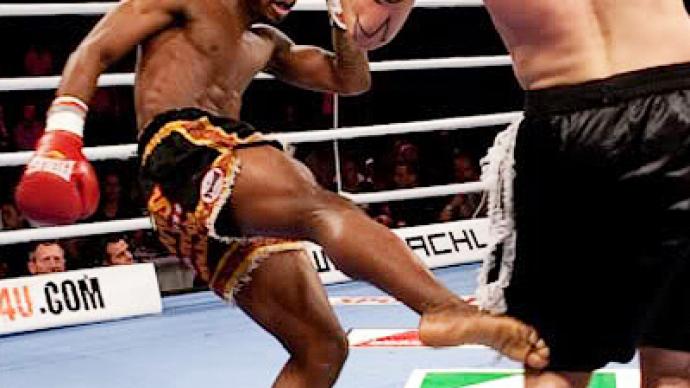 Russia's Ruslan Tozlian failed to defend his super light-weight title against one of the world's toughest stand-up fighters, Sergio Wielzen from the Netherlands. It was a bruising encounter with Tozlian admitting he was overpowered by the Dutchman.
The 28-year-old Ruslan Tozlian, four-time world kickboxing champion, is currently kicking on the door of the stand-up fighting elite facing off a title challenge from the sport's powerhouse – the Netherlands.
The former Showtime champion Sergio Wielzen had his eyes on Tozlian's W5 belt. The five-round bout was one of the main events at the tournament, held by world leading W5 and Fight Code promoters in Moscow last weekend.
The defending champion was quick to drop the contender in the first round although the knockdown did not hurt the Dutchman much.
The 24-year-old promptly fought back with a bunch of heavy strikes. Diamond cut diamond – Wielzen kept himself busy with low and high kicks, fulfilling a gameplan he revealed afterwards.
"The gameplan was not to box with him because he's a good boxer. So it was kicking, kicking…that was my strategy for this one," he shared.
And that strategy proved to give Wielzen the edge on the night. The Dutchman won the fight by a split decision to become the W5 world champion at 60 kilos.
However, there's little time for the winner to rest on his laurels as he confessed that he still has some unfinished business with the current Showtime champion Javier Hernandez.
"My plan for the future? My next fight with Showtime. In two weeks I'll be ready to fight again, in Spain. Again somebody that has my It's Showtime world title! I want it back!" he says.
That was not all the event had to offer with some more spectacular action taking place on the night. The Fight Code Rhino Final 8 tournament entertained the crowd with four heavyweight battles. Freddy Kemayo's unanimous decision victory over Mladen Kujundzic apparently stole the show.
Meanwhile, Ukraine's Roman Mailov took on Keiji Ozaki representing Japan. The under-65-kilos clash between Muay Thai and taekwondo specialists respectively, saw Mailov, the younger man by 10 years, claim his 13th career victory in style.