'Sochi mountain is world class' – Bode Miller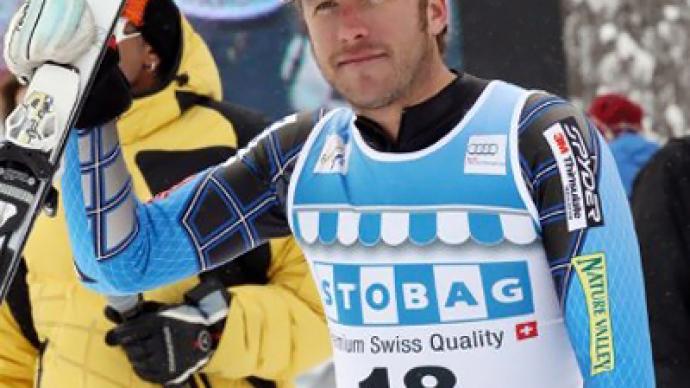 US Olympic gold medalist Bode Miller, who is preparing for World Cup competition at the ski resort in Sochi, has been amazed by the venue for the 2014 Winter Games.
Speaking at a news conference on Thursday, the 34-year-old, who won the Super Combined at the 2010 Games in Vancouver, described the mountain at Krasnaya Polyana as "world class". "It's a shame that over the last years there's only been two times that we've come here (in Russia) to race World Cup because, as you can see, with this venue, the mountain is world class – it's as nice as any of the places we ever go, you know I think it's going to be amazing to host the Olympics here," the star skier stated, adding that the organizers should do their best to prepare the Games because "the Olympics is such a perfect opportunity to showcase a venue and an area, a culture and a country."Miller believes the quality of the resort could help changing foreign impressions about Russia as a winter sports destination."A lot of people still have a lot of misconceptions about the area, and they don't think of ski areas when they think of Russia. So this will be a really amazing chance to show the world what your country is."
According to the American, the slope in Sochi's Krasnaya Polyana is naturally made for skiing. "I think the hill itself is maybe, if not the best, then one of the best hills I've ever seen for a natural downhill – a set-up for a natural downhill where you almost don't have to put in any gates in the whole course. There's only maybe six or seven places on the whole course where you need one gate or two gates to control just the direction that the athletes come through," he said."You could run that exact course out there, and leave every gate in the same place that it is right now, and run it as a World Cup Super-G or an Olympic Super-G – and it would be maybe one of the best Super-Gs we've ever had," he added. The FIS Alpine Ski World Cup rolls in Sochi this weekend to give the slopes for the 2014 Winter Games their first serious test in worldwide competition.
You can share this story on social media: