Russians make history at short track Euros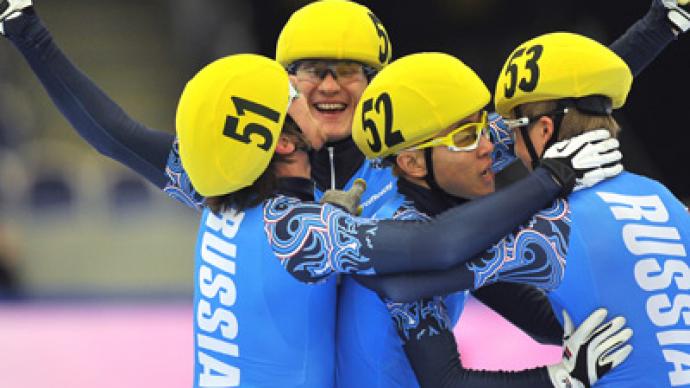 The Russian men's short track team have reached a new level after claiming their first 5000 meter relay gold at the European Championships in Malmo, Sweden.
The Russian quartet of Evgeny Kozulin, Viktor An, Semen Elistratov and Vladimir Grigoriev clocked 6 minutes and 51.293 seconds to leave the favorites from the Netherlands behind. The Dutch had to settle for silver on 6 minutes 51.465, with the Hungarian squad snatching the third spot. "The emotions are very positive," Vladimir Grigoriev told Russian Skating Union's official website. "Everybody is just happy. The team won the relay for the first time in history. At last, we have crushed the Netherlands. They've been winning everything for the last two years and now we, finally, beat them."  "The relay was an equal encounter. The Dutch are running very fast, but we tried not to lag behind. Everything was decided in the last two laps. In my opinion, we were a little wiser, a little better tactically – we exhausted our rivals or they gave everything away themselves, but on the final lap we were able to turn up the heat and win," he added. The relay gold isn't the only medal Russia bagged in Malmo as Grigoriev also took gold in the 500 meters, with Ahn coming up with silver (1000m) and a bronze (500m) and Elistratov adding two more bronze medals in the 1000 and 3000 meters.The country's short track team have been seriously boosted ahead of the home Olympics in Sochi 2014. Prominent foreign coach Sebastian Cros was put in charge of the squad and three-time Olympic champion for South Korea, Ahn Hyun-Soo (Viktor Ahn), has been granted a Russian passport, with changes already bearing fruits.
You can share this story on social media: