Belarusian emerges as Russia's best bet for London pentathlon gold
Published time: 8 Sep, 2011 13:17
Edited time: 8 Sep, 2011 17:17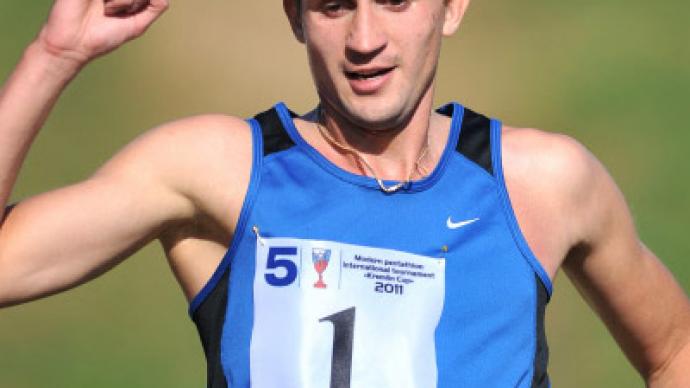 The Modern Pentathlon World Championships gets underway in Moscow on Thursday. RT speculates on Team Russia's chances at the event and introduces its biggest hopeful for London gold.
Russia has always been a powerhouse in the men's modern pentathlon. Three gold medals from the last three Olympics is the best evidence of the team's dominance.
Because of the depth of the nation's talent, the Russians could field several teams in their own right, and it will be a tough challenge for the coaches to choose the two athletes that will compete at the London Olympics in 2012.
"We managed to save the training camps for pentathlon after the Soviet Union collapsed. We have invested one-and-a-half million dollars in developing this camp, and now it's one of the best in the world. We've always had a powerful squad. The problem is that only two of our athletes can compete in the Olympics. So we have very tight competition in the national team," explains Russia Coach Aleksey Khaplanov.
Three years ago, the Russian team also acquired an unexpected reinforcement. Nowadays, it's quite common for athletes to change their citizenship in order to get an opportunity to take part in big competitions. But Aleksandr Lesun's story is something completely different.
The 23-year-old was born in Belarus, and got into sport by learning to swim when he was six. But, at the age of 21, his life took a sudden change.
"The Belarus team coach fell out with my former coach, and the national coach wanted to get rid of me. So he made up a fake diagnosis of heart disease, and told me I was unsuitable for professional sport. That was a hard thing to bear. But I quit sport and got a job. However, luckily Russia's coach Aleksey Khaplanov invited me to their training camp, and made several examinations that proved that I'm fully fit to compete. So I stayed here, in Russia," recalls Lesun.
Fortunately, Lesun got back into the sport less than a year after he had quit. And since then, he has won the Russian Championship twice, was a runner-up at the World Championship last year, and tops the world rankings this season.
The Belarusian leads a very strong team that includes two World Champions, Ilya Frolov and Sergey Karyakin, and double Olympic Champion Andrey Moiseev.
"I worried so much when I got back to training. I looked at two-time Olympic Champion Andrey Moiseev and wondered 'How can I become such a legendary athlete?' Their level seemed to be unreachable for me. But I started to train with the team, and the guys showed me how. Half the battle is hard training," Lesun admits.
Every fencing touch, every second gained in swimming and running, every faultless ride, every accurate shot, can make the difference between those athletes battling for a place at the Olympic Games.
Out of the blue, a Belarusian has added more competition to the Russian team. While Russia gained an athlete who looks set to dominate in the near future and could be a strong contender for them at the Olympic Games, in London 2012.