Flawless on the floor: Russia grabs more rhythmic gymnastic gold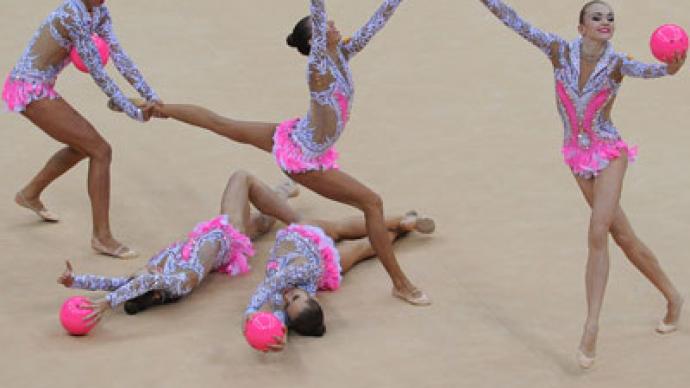 Russia has proven its dominance in rhythmic gymnastics with the country's squad claiming gold medal in the group all-around at the London Games.
The Russian team took the lead after the first exercise with five balls and managed to maintain it after the second routine with three ribbons and two hoops.Anastasia Bliznyuk, Uliana Donskova, Ksenia Dudkina, Alina Makarenko, Anastasia Nazarenko and Karolina Sevastyanova scored 57.000 points to come away with the gold medal. Silver went to Belarus on 55.500 points, topping third placed Italy by just 0.05 points."It wasn't at all scary to compete, thanks to the great support of the Russian fans," Alina Makarenko told Sportbox.ru. "This success would've been impossible without our coach Irian Viner. She put her heart and soul into us, teaching us the new gymnastics. I wanted to win not only for myself, but her and our whole country.""It's also worth mentioning we're one of the last athletes to compete on the Games' final day. And it was important to end the Olympics on a high note," she added.As for Viner, the Russian coach said her victorious charges finally deserve some rest."I'm giving full freedom to the girls now – hanging outs, food, sea, boys, discos," she said. "For the last six months, they led the lives of soldiers, ate buckwheat and stayed indoors. And the girls are just 17 years old. But now they are, of course, very grateful." Previously, the Russian rhythmic gymnasts were unmatched in the individual all-around, with Evgenia Kanaeva and Daria Dmitrieva taking the two top spots on the podium.