Putin awards Olympic champions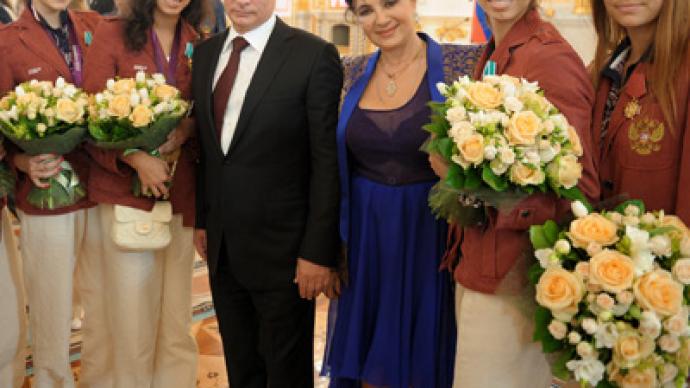 Russian President Vladimir Putin has greeted the country's Olympic champions at the Kremlin, presenting state honors to the London 2012 heroes.
Team Russia finished the Games fourth in the medals table, missing out on the Top 3 for the first time in history, but Putin found words to cheer up the athletes."If you look at our result at the 2008 Olympics – we took third team place there, but the number of medals we won in London is greater than in Beijing," the President said. "So this is, for sure, an improvement.""We need to set ambitious targets, the most ambitious. And only then we'll be successful, even if we don't achieve something, of which was spoken in public earlier," he added.The Russian athletes won 24 gold, 25 silver and 33 bronze medals at the London Olympics, which is one gold, and ten medals more than in Beijing."I would also like to thank our volleyball players for the final match [against Brazil]. The guys showed real character. I phoned and congratulated their coach [Vladimr Alekno] and through him – all the athletes. I heard how he instructed them during the match and had to scold him a bit," Putin laughed. "But it was a great match, a gorgeous display, and it was typical of the performance of our whole Olympic team. We admired the courage of our martial artists, the breakthrough of the track-and-field athletes, the beauty of the routines by the synchronized swimmers and rhythmic gymnasts, whose performances can be called a real extravaganza." The head of the state also urged the champions to visit schools in the regions where they live and train on September 1 to share their experience and inspire the youngster to go in for sports. "It'll be very interesting, pleasant and beneficial for Russian schoolgirls and schoolboys to talk directly with their idols," he explained.The highest of the presented honors was the Order for Services to the Fatherland fourth class, which was handed out to rhythmic gymnast Evgenia Kanaeva and synchronized swimmers Natalia Ishchenko, Anastasia Davydova, Svetlana Romashina, Elvira Khasyanova and Maria Gromova, who defended their gold from four years ago. The lower-ranked Order of Honor went to 400m hurdles gold medalist Natalia Antyukh and 36-year-old veteran, Sergey Tetyukhin, who was an essential part of Russia's golden volleyball squad. The rest of the Olympic champions received the Order of Friendship, which is awarded for strengthening international relations.