Phelps accused of violating Olympic rules, swimmer's agent denies
Published time: 19 Aug, 2012 11:04
Edited time: 19 Aug, 2012 15:06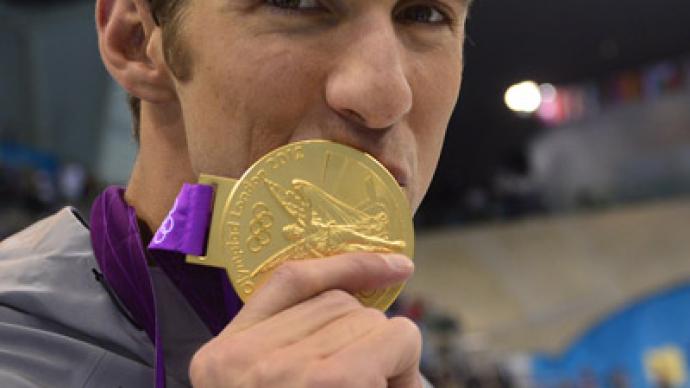 Michael Phelps, the winningest Olympian ever, won't be stripped of his London medals over his 'unsanctioned' ad campaign for Louis Vuitton, Phelps' longtime agent said.
The legendary swimmer has been accused of violating a rule by the International Olympic Committee (IOC) that prohibits athletes from promoting non-official sponsors for a set timeframe surrounding the games. Possible sanctions for violations include the stripping of medals.
Phelps, however, is unlikely to lose any of his medals, the AP quoted Phelps' agent Peter Carlisle as saying.
"He didn't violate Rule 40, it's as simple as that," Carlisle said. "All that matters is whether the athlete permitted that use. That's all he can control. In this case, Michael did not authorize that use. The images hadn't even been reviewed, much less approved. It's as simple as that. An athlete can't control unauthorized uses any more than you can guarantee someone isn't going to break into your house."
"I can't count on every hand in this office the number of unauthorized uses that happen during the games period," Carlisle said. "We uncover them by the dozens. Some are by companies we don't even know. It happens constantly."
Phelps' ad campaign for Louis Vuitton officially began on Thursday, the day after the IOC ban ended. In one of the pictures, Phelps is shown in a bathtub wearing only goggles and skimpy briefs. Another ad depicts him sitting on a sofa, wearing a three-piece suit and chatting with former Soviet gymnast Larisa Latynina, whose four-decade-long record for overall medals was broken by Phelps at the London Games.
Phelps won four gold and two silver medals in London before announcing his retirement.