Pavlyuchenko scared by news from Russia
Published time: 14 Dec, 2010 11:59
Edited time: 14 Dec, 2010 16:53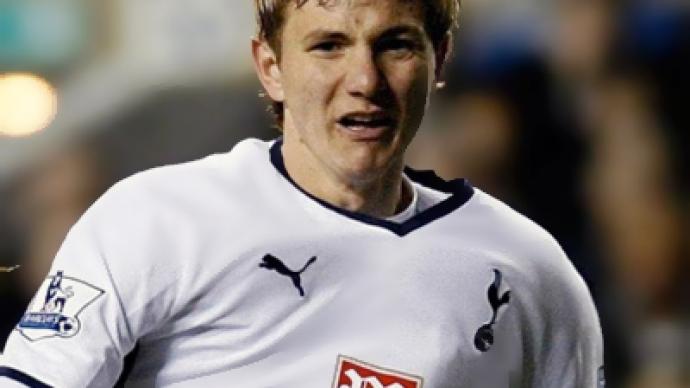 Tottenham striker Roman Pavlyuchenko says he is frightened after watching news about football fans rioting in the heart of the Russian capital.
­A gathering of thousands of football fans to mourn their comrade – Spartak supporter Egor Sviridov – killed in a street fight with men from the Northern Caucasus, ended in racist attacks and clashes with the police past Saturday.
"It is impossible not to watch news from Russia. You switch on TV and everywhere in the news there is Russia. Through your paper I want to express my condolences to the family of the perished Egor Sviridov," Roman Pavlyuchenko said in an interview with Sport-Express daily.
Pavlyuchenko used to be the hero of Spartak Moscow fans before joining Tottenhan Hotspur in the English Premier League after Euro 2008.  
"It just does not make sense that one can go out in Moscow and encounter a guy with firearms. And it is very strange that having arrested the criminals the police soon released them," the 28-year-old added. "On the other hand, I watch the news and it frightens me. From here it is not clear who is behind this disorder, but when I imagine that you could accidentally get in the middle of the commotion while having a walk with my daughter it makes me shudder."
The Russian international also informed that the British media did not leave the Moscow unrest unnoticed.
"By the way, the English press has immediately picked up the topic, savoring pictures from the Moscow Metro, stressing that this is the country that got the World Cup in 2018," he said.
Pavlyuchenko scored Tottenham's only goal in their home draw against defending champions Chelsea over the weekend, which was his fifth goal in 15 Premier League appearances this season.  
"I am satisfied with my performance in the first half, but in the second I began to get tired and make mistakes. I do not think that this is connected with the problems with my physical conditions, but rather with the lack of practice. When you miss several matches you lose the rhythm. I expended too much energy in the first half than I had not enough for the second, and I was correctly substituted for," the striker commented on the game.