Football fans rally over supporter shooting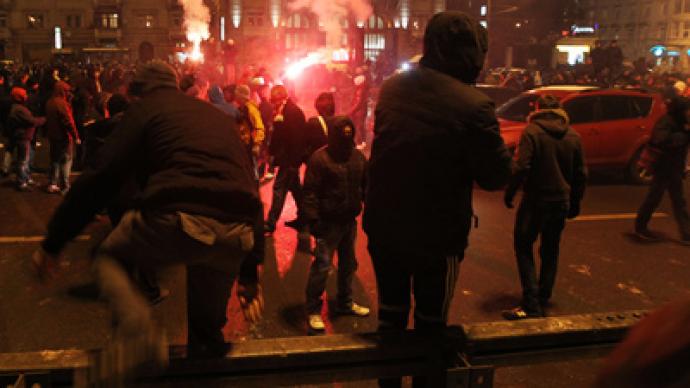 Angry football fans blocked a major street in Moscow Wednesday for an unsanctioned rally over the death of a fellow supporter, Egor Sviridov, killed by a gun normally used to fire rubber bullets.
The deadly fight happened in Moscow on Sunday night. It involved five young men from Russia's southern republics on one side and Sviridov, 28, and a few of his friends on the other. During the clash, an opponent of Sviridov drew a pistol designed to shoot rubber bullets and fired at the football fans. Sviridov was killed and another football fan sustained a serious injury and remains in hospital.The weapon is believed to have been modified to fire live rounds, as Sviridov was killed on spot. Another young man received a serious wound and is now in intensive care. The suspected shooter, Aslan Cherkesov, from the republic of Kabardino-Balkaria in the Northern Caucasus, has been arrested.On Wednesday, fans from the Fratria movement, made up of Spartak Moscow FC supporters, gathered in central Moscow for an unsanctioned rally. Supporters of other clubs joined them and called for the authorities to conduct a quick and thorough investigation, to find and punish the killers. The Fratria group wrote an open letter to the head of the Russian Investigative Committee asking the official to take the case under his personal control.The rally organizers and police said about 1,000 people attended the demonstration. Riot police were almost immediately dispatched to the site. The officers did not detain any of the fans. They persuaded them not to obstruct traffic and to disperse. Some reports said the protesters attacked local shops and shouted nationalist slogans as they walked, however police denied the claims. They also said no case against the organizers of the unapproved gathering will be launched. Fratria is considered a purely sports movement among supporters – its members are not normally known to get into fights and do not have any political or ideological agenda.Sunday's incident was the latest in a long line of cases involving rubber-bullet-firing pistols in Russia. These guns, often designed on the basis of production-line revolvers and pistols, fire over-caliber rubber bullets with a weak powder charge, seeking to bruise and stun the target. However, the guns are still quite powerful. They can cause serious injury or kill if a vulnerable spot is hit – especially when the pistol has been illegally modified.For example, in December 2009 a retired police officer got into a row with a snowplow driver over a traffic accident. He shot the man in the leg with a rubber bullet from a special pistol. The bullet punctured an artery and the man died. The former policeman was sentenced to six years in a penal colony.
You can share this story on social media: