Big Bang opens biggest Paralympics in history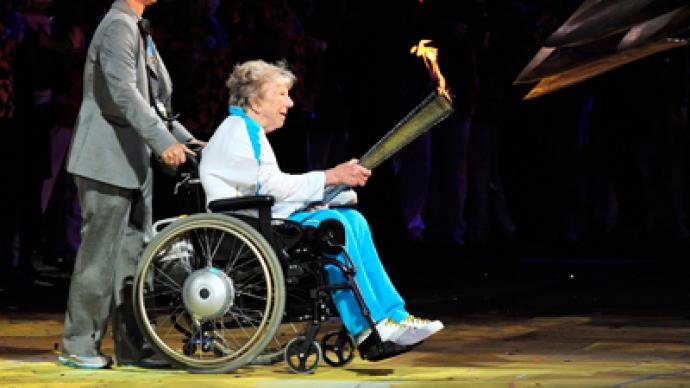 The biggest Paralympic Games in history has kicked off with a dazzling opening ceremony at London's Olympic Stadium. Queen Elizabeth II, renowned physicist Stephen Hawking and a character out of Shakespeare all made appearances at the show.
The gala started off with a mock Big Bang, with a glowing sphere turning into a gigantic nebula to illustrate what scientists believe were the nascent moments of our universe. Stephen Hawking, one of the most influential physicists of all time, who has not been able to move most of his body and speak for decades, gave an introductory speech. The Paralympic Games is about transforming our perception of the world," Hawking said, using his well-known computerized voice. "We are all different, there is no such thing as a standard or run-of-the-mill human being, but we share the same human spirit.
Hawking stressed that there was always something to succeed at in life despite the limitations a physically disabled person may have. Miranda, one of the central characters in William Shakespeare's The Tempest, later appeared onstage, portrayed by wheelchair-bound actress Nicola Miles Wildin. Hawking directed her to "be curious," and the stadium transformed itself into a giant blinking eye, with performers on huge waving sticks acting as eyelashes. One of Miranda's quests was to travel through a maze to find an apple, with the audience encouraged to take a bite of the fruit. Another high-profile guest and athlete who appeared during the ceremony was legless South African sprinter Oscar Pistorius, nicknamed Blade Runner. Pistorius, who relies on bouncy blades known as "Cheetah" prosthetics, already competed in the Olympics in the men's 400 meters race 4 x 400 meters relay race, becoming the first double-leg amputee to do so. He is now looking forward to running in the Paralympics.Also present at the ceremony was wheelchair-bound Ecuadorian Vice President Lenin Moreno, who had discussed the case of Julian Assange with British Foreign Secretary William Hague in London earlier on Wednesday.Athletes set to take part in the Paralympics then took part in a parade, brandishing umbrellas, a jab at London's notoriously rainy weather conditions. A number of athletes arrived on motorized carts, while others rolled themselves in on wheelchairs. Some wore eye patches and sunglasses, while others used canes and prosthetic limbs to move around, but all showed their zeal for competition. "Sport is about what you can do, what you can achieve, the limits you can reach, the barriers you can break," London organizing committee member Sebastian Coe said. "Sport shows what is possible. Sport refuses to take no for an answer."Queen Elizabeth II said that Britain was looking forward to "celebrating the uplifting spirit which distinguishes the Paralympic Games from other events." She was accompanied onstage by her grandson, Prince William, his wife Kate, the Duchess of Cambridge and Prime Minister David Cameron. The 60,000 spectators were also able to listen to a musical program that featured blind soprano Denis Leigh singing "Spirit in Motion," as well as singers Elin Manahan Thomas, Beverley Knight, British dance group Flawless and others. The event culminated with a massive fireworks display on par with the ones used to open the preceding Olympic Games.The London Paralympics are the biggest games in the their history, with 4,200 athletes from 160 nations participating and a record 2.5 million tickets expected to be sold by time the event comes to a close on September 9.