South Sudanese runs to Olympic finish after horrors of war
Published time: 12 Aug, 2012 13:41
Edited time: 12 Aug, 2012 17:41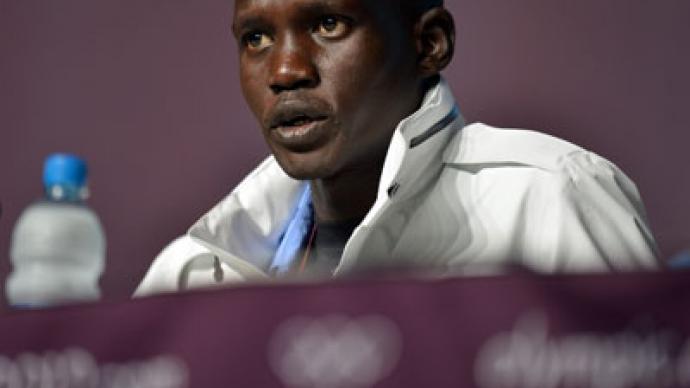 A marathon runner from South Sudan who fled the horrors of civil war a decade ago, losing more than two dozen relatives in the conflict, is no longer running from danger, but towards a finish line in the 2012 Olympics representing the "whole world".
­A week before the London Games, the International Olympic Committee (IOC) decided to let 28-year-old Guor Marial run as an independent athlete under the Olympic flag. The reason behind the decision was the fact that South Sudan, which formally gained independence in July 2011, is not yet recognized by the IOC.

Living through war
Initially, the IOC advised Marial to represent Sudan at the Olympics, but he never considered it as an option due to the hardships he had to endure during the Sudanese conflict.
Marial was born in the early stages of the bloody civil war, during the course of which he ended up losing eight siblings and 20 other family members. When he was 10, the boy was kidnapped and forced into hard labor.
Eventually, Marial managed to escape the war by going to live in a refugee camp in Egypt. In 2001, at the age of 16, he was granted refugee status and was allowed to move to the US to live with his uncle.
"Growing up in the war, it was dangerous and hard. It was about survival of the fittest," he said at a news conference. "I feel fortunate to have that, to have that background, that's helped me with my running and my everyday life."
When living in Sudan, the athlete viewed running as a tool to survive. However, with the help of his US gym teacher he decided to take it up as a sport.
"Back home, when you run, you are running from danger," said Marial. "But it has become something that I love and I want to continue doing it."
Marial has not seen his parents since 1993 and on Sunday, they finally got a chance to see their son – albeit on a TV screen in a town about 30 miles (48km) away from the place where they live. The South Sudanese athlete said he was going to run for his family and to raise awareness about South Sudan and refugees who fled the conflict.
Sunday's race has been Marial's third marathon – and he came in 47th. But in this case it is not the result that matters the most. At a news conference prior to the competition, Marial said that he hoped "the young generation in South Sudan will see me and be able to dream high for the next years to come."
"Representing the five rings, it's the best," Marial said. "I'm representing the whole world, basically."
Marial is one of four independent athletes participating in 2012 London Games. The other three are from the former Netherlands Antilles. It is only the third time in Olympic history that the IOC has let athletes compete under the Olympic flag.