Mekhontcev wins Russia's only boxing gold in London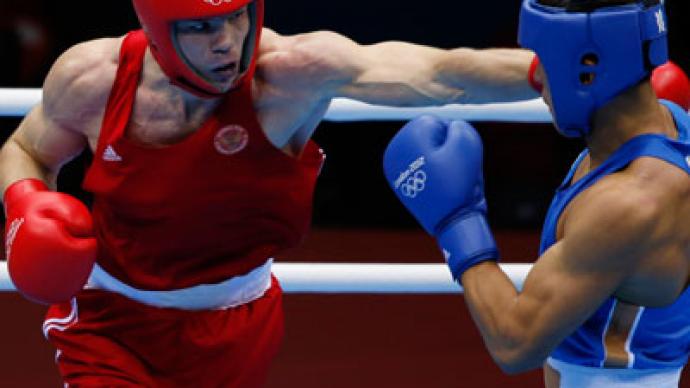 Egor Mekhontcev has fought his way to the podium in the men's light heavy category to bring Team Russia their only boxing gold in London.
Mekhontcev was trailing 3-4 after the opening round of his final bout against Adilbek Niyazymbetov of Kazakhstan.But the Russian turned up the heat in the second and leveled the score in the match at eight apiece. The third round was an equal affair, with a pretty long break preceding the announcement of the winner.  The bout ended with a 15-15 scoreline, but the judges awarded the gold medal to the more active Mekhontcev."During the match, I felt that the advantage was on my side," Mekhontcev told Sportbox.ru. "The judges scored a draw, which meant that I'm the lucky one. The fight was bona fide, but I'm the fair winner." "My personal coach is my dad and it's his win as well. It took a lot of hard work and plenty of nerves. We were waiting for this day for 18 years and now it has finally come," the 27-year-old added.There were two more medals from the Russian boxers on the day, with Misha Aloian and Andrey Zamkovoy claiming bronze in the 52kg and 69kg categories respectively.
You can share this story on social media: