Medvedev to award Russian Olympians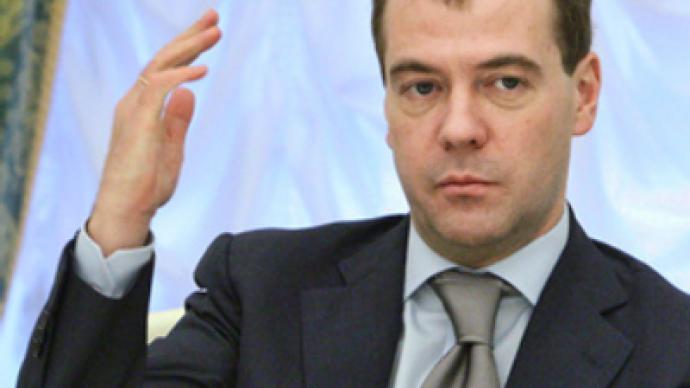 Russian President Dmitry Medvedev has signed a decree awarding state honors to the Russian athletes who managed to bring home medals from the Vancouver Olympics.
The six athletes who brought home three Russian Olympic gold medals from the Winter Games in Vancouver will get an Order of Friendship for their efforts at the 2010 Games.
Those sportsmen are skier Nikita Kryukov, biathlete Evgeny Ustyugov and women's biathlon relay team, made up of Anna Bogaliy-Titovets, Olga Zaitseva, Olga Medvedtseva and Svetlana Sleptsova.
Meanwhile, figure skating silver medalist Evgeny Pluschenko, biathlete Ivan Cherezov and speed skater Ivan Skobrev, who brought a silver and a bronze from Canada, are to be awarded with the Order of Merit for the Fatherland, first class.
The Order of Merit for the Fatherland, second class, will be awarded to the bobsleigh pair of Alexey Voevoda and Alexander Zubkov, figure skating pair of Oksana Domnina and Maksim Shabalin, snowboarder Ekaterina Ilyukhina, skiers Irina Khazova, Natalia Korosteleva, Nikolay Morilov, Alexey Petukhov, Aleksander Panzhinsky, skeleton athlete Aleksander Tretyakov, biathletes Maxim Chudov and Anton Shipulin.
President Dmitry Medvedev will greet the Russian Olympians in Kremlin on March 15.
"We have to thank those athletes who have achieved great results and managed to succeed in tough competition. Unfortunately, there aren't as many of them as we had expected," Medvedev said, as quoted by Vesti Sport. "The performance of the Russian Team lacked stability, but regardless of the overall result, those who won deserve the highest praise."
The Vancouver Games turned out to be a real disappointment for Russia as its athletes won just 15 medals (3 golds, 5 silver and 7 bronze), which is significantly less than the 22 medals (8 golds, 6 silver and 6 bronze) that the Russian team brought home four years ago in Turin.
You can share this story on social media: