Luzhniki, Russia's biggest stadium, slated for demolition
Published time: 8 Dec, 2012 10:23
Edited time: 12 Mar, 2018 15:49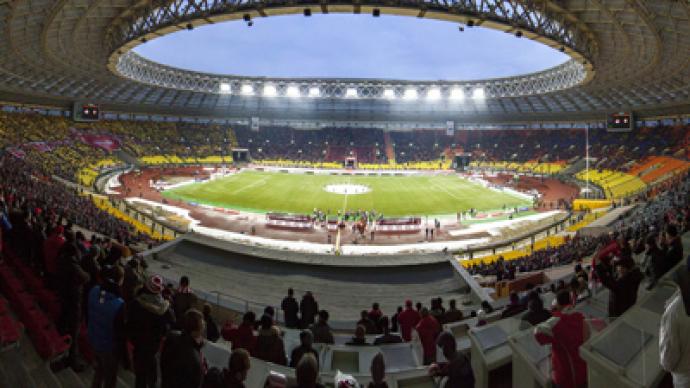 Russia's biggest and most famous arena, the Luzhniki in Moscow, will likely be demolished after hosting the 2013 World Athletics Championships, with a new stadium to be built in its place, the Russian sports minster has said.
­"There are two options: The first one is how it happened with the Brazilian stadium of Maracana when the walls remained, but everything inside was cleared. This is expensive and not perfect because we'd have to go underground, but, actually, there's nowhere to go there," Russian sports minister Vitaly Mutko told Interfax news agency.
"So the concept, according to which the stadium will be demolished and a new modern arena built in its place, is about to be accepted," he said. "We'd like to do it how the British did it with Wembley – that the new stadium would also become a concert area, business center and a place for entertainment. But the final decision is to be made by the government and the mayor of the capital city of Moscow. "
According to the minister, drastic measures will need to be taken to bring Luzhniki up to FIFA's high standards, as the arena will be the main venue for the Russian-hosted 2018 FIFA World Cup.
The stadium has undergone several renovations, the latest in the 1990s, but the venue has already become outdated.
"Two stadiums in Moscow will be used during the 2018 World Cup – Luzhniki and Spartak," Mutko said. "Luzhniki will host the opening match and the final, so the stadium has to able to accept 80,000 spectators. Today the stadium doesn't meet FIFA's capacity standards. According to new requirements not everything is smooth with safety, accommodation and broadcasting as well."
President Putin and the Russian government will be deeply involved in the Luzhnini project so that the stadium will remain the "the country's largest sporting enclave," he added.
The Luzhniki stadium was opened 1956, and has since hosted numerous sporting events, including the 1980 Summer Olympics and the Champions League final in 2008.
The stadium's current capacity is 78,360, with an all-time attendance record of 102,538 at a USSR-Italy footbal match in 1963.
The 14th IAAF World Championships in Athletics is scheduled to take place Moscow in 2013 from August 10 to 18.
Russian skier Natalya Matveyeva, right, in the sprint event held during the FIS World Cup cross-country skiing stage in Moscow, on the territory of the Luzhniki Sports Complex (RIA Novosti / Alexey Filippov)