Japanese sensei opens Kyokushinkai school in Moscow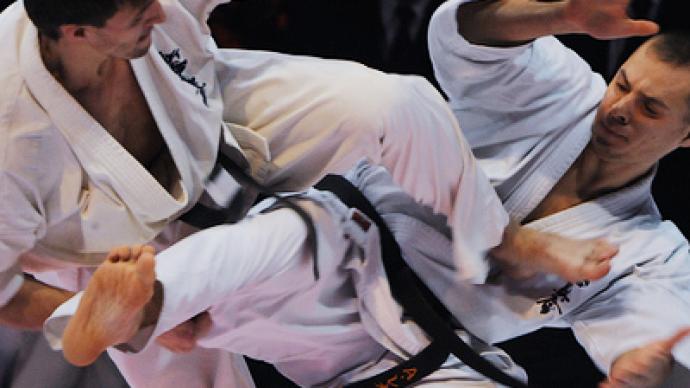 RT continues its look at martial arts styles from across the planet, with Kyokushinkai, a relative newcomer to the karate stable, being in the spotlight.
No gloves nor any other type of protection; no training sessions without tough sparring, getting prepared for full contact fighting anytime and anywhere.Within the framework of widely known karate, this stand-up fighting style claims to be one of the most brutal, and most realistic, with only punching to the head normally restricted for safety reasons.Welcome to Kyokushinkai, which is Japanese for "the society of ultimate truth". The style was founded in 1964 by Masutatsu Oyama – a man who never tasted defeat.RT caught up with his successor in Moscow – one of the most respected Karate masters in action today – Shokei Matsui, as a new venue for Kyokushinkai advanced practitioners opened in the Russian capital."Russian athletes are a powerhouse in the sport. In particular, Tariel Nikoleishvili, who won the Japanese Open championship, is the best proof of it," Matsui Akiyoshi said.The 21-year-old Russian is a true sensation, becoming the youngest winner of the most prestigious Kyokushin event.  Along with being the first ever foreigner to claim the title in the Land of the Rising Sun. "I worked very hard, as did my trainer, who devoted himself to raising me as a martial artist. We moved forward step by step, from one competition to another…with the sole aim of reaching this peak," Nikoleishvili said.However, there's another title which soon could be high on the agenda list – an Olympic crown. Nikoleishvili, along with other Kyokushin stars, are simply itching for the chance to prove themselves at sport's most prestigious meeting…"I think, in the near future, there may be some good news in this respect. We're continually holding negotiations with the International Olympic Committee. Kyokushin could be included in the program within the framework of Karate as a whole," Aleksandr Ipatov, president of Russia's Kyokushin Federation, said."I can't confirm that Kyokushin will become an Olympic sport. There are a lot of Karate styles, with different rules… So it's a matter of which combination of rules will be accepted by the Olympic Committee. Anyways, we're open for collaboration with the rest of the styles," Matsui Akiyoshi stressed.It's not clear yet if one of the globe's most extreme combat sports – Karate Kyokushin – will ever become an Olympic event, although it's already established its proud name in the history of martial arts.
You can share this story on social media: