Aikido sensei gives master-class in Moscow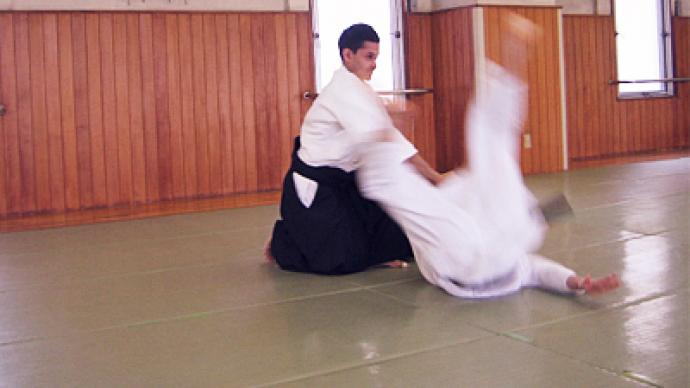 Local aikido followers have been given a chance to know the Japanese martial art at first hand with a three day master-class in the Russian capital.
It is not all about strength and speed. Just the slightest of efforts is enough to halt an attacker. The Japanese martial art of aikido looks simple, but it is most certainly very intricate – something that becomes obvious when you see a true master in action.Meet Yasuhisa Shioda – one of the world's top aikido practitioners and son of Gozo Shioda – one of the sport's founder Morihei Ueshiba's most senior students.Russia has been a popular destination for the 52-year old sensei. This is the fifth time Shioda has overseen a training master-class on Yoshinkan Aikido here."Shioda sensei is an elite aikido master, one of the best in the world. He's quite tough as an instructor and you have to concentrate when assisting him. As a matter of fact, I got injured during the first session this week. It's quite a common thing because when Shioda trains with skillful assistants, he doesn't hold back," says the president of Russia's Aikido Yoshinkan Federation, Nikolay ZherdevA martial art of harmony – this is probably the best way to describe aikido. Do not resist the laws of nature, but make them your ally. Seek the perfect balance and turn your opponents' power against them.The sport teaches that in following these rules, a bigger, stronger foe can be seen off with no regard to sex or age."Kids can start training in aikido as soon as they can walk. Of course, there are things they can't do that adults can, but it's a very good time to learn the basics – how to stand, move and fall," says Yasuhisa Shioda.The little Russian martial artists got their share of some priceless teaching under the guidance of Shioda's devoted disciple, Uchi-Deshi Yanagihara, who was taking charge of one of the toughest aikido yoshinkan training courses – Senchusei."It was aikido every day, eight hours a day. I was a kind of scared at first, and my parents didn't want me to do it, because they believed I was still doing aikido for fun, and it's the best thing I've ever done," says Yanagihara.This was an opportunity a whole host of Muscovites would no doubt take, take and take again."My father Gozo Shioda developed the yoshinkan style of aikido. And I do my best to promote it all over the globe. We travel to different countries and hold master-classes to get more and more people involved in aikido yoshinkan," explains Yasuhisa Shioda.And judging by Russia's reaction, the traveling master is succeeding in doing just that.
You can share this story on social media: