Russia knocks opponents out at home Kudo World Cup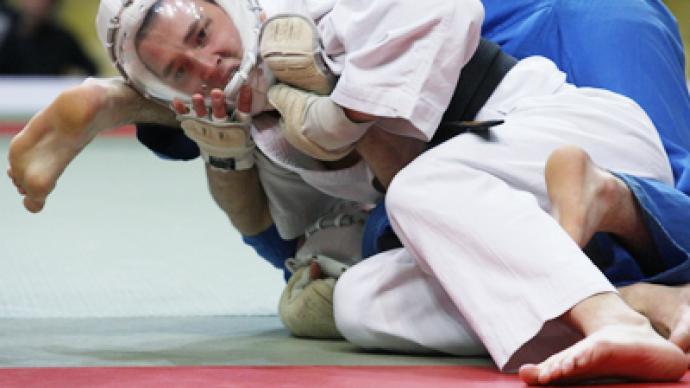 Team Russia have claimed a flawless victory at the World Kudo Cup held in Moscow on Saturday. The mixed martial art of Kudo is just 30 years old, although that has been long enough for the hosts to take a commanding lead in the sport.
Taking part in the event were 125 fighters from 30 countries, but just one team proved they are the undisputed powerhouse in the sport.The mixed martial art of Kudo is one of the youngest on the planet. It was Moscow's first time hosting the World Cup and also the first time a Kudo competition has taken place outside the sport's motherland – Japan.However, the event was just more proof that Russia dictates the terms in one of the fastest-growing and eye-catching martial arts at present.Instead of having weight categories, Kudo uses so-called physical indexes – the sum of a fighter's height and weight.  The World Cup participants competed in six classes and all of them saw all-Russian finals, with Kudo founder, Japanese grand-master Takashi Azumo, expressing some mixed feelings over the issue."Of course, I'm very upset with my compatriots' performance. On the other hand, as Kudo founder, I'm glad and proud that it is so popular with other nations. This is a great promotion for the sport. Besides, all Kudo practitioners are just like my children," he said.Meanwhile, heavyweight boxing star Nikolay Valuev confessed, Kudo was just a delightful discovery for him."From here on I am Kudo's biggest fan. You want to know why? Minimum restrictions…this allows fighters to be very creative and spontaneous. Just perfect conditions for them to show what they've really got during the fight," he said.While on the mat, Adam Khaliev got the better of Team Russia's captain Aleksey Kharitonov in a match during the 2009 world championships' runner-up against the champ."I decided to bank on my durability. The plan was to take him down, wrestle and count on the ground-and-pound. That was the only way to beat him," Khaliev said. Among some bigger guys, another world champion, Yuriy Panov, defended his title against Andrey Chernykh. And Nikolay Vingert took the world crown by defeating Ibragim Larsanov.  "My little son gave me a call just before the fight and said, 'Daddy, you have to win.' I knew he was watching the fight, so I just couldn't have disappointed him," Vingert said.Also known as furious karate, Kudo is promptly establishing its name in the world of mixed martial arts and sports in general, meaning the fighters present in Moscow may soon be given a chance to fight for another title – Olympic gold.
You can share this story on social media: