Korotyshkin upstages Phelps in 100m butterfly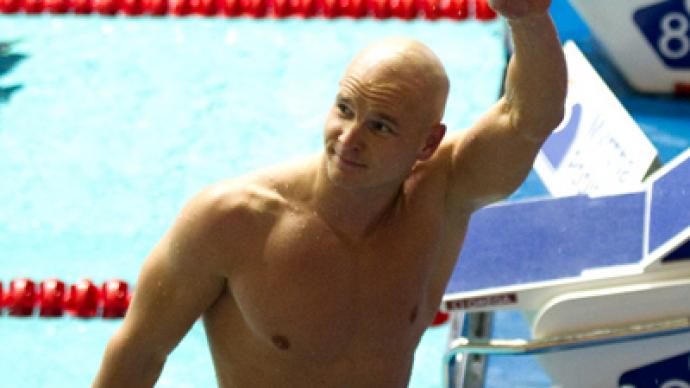 American swimming star Michael Phelps has once again taken just one gold out of three races at the latest FINA World Cup stage in Moscow. While Russian world record holder Evgeny Korotyshkin performed at his, best winning the 100m butterfly.
Despite vowing to perform better after a below-par display on Tuesday, 14-time Olympic Champion Phelps produced almost an identical set of results on Day Two.In the 200 meters freestyle, the 26-year-old American was overtaken in the last 50 by German world record holder Paul Biedermann, and had to settle for silver.The star, competing in Moscow for the first time, failed to make it to the podium in the 100 meters butterfly as well. In that event, world record holder Evgeny Korotyshkin grabbed first place to the delight of the home crowd."It was very important for me to win today. So I can say I've won a battle and now my aim is to win a war. And by that, I mean the London Olympics," said Korotyshkin afterwards.And just as he did on the opening day, Phelps showed his competitive desire as he bounced back to claim gold in the 200 meters backstroke.After being fourth over the first 150 meters, the American found a burst of power, and managed to surge to victory.There are still four stages to go before the end of the World Cup so pundits and swimmers alike will have another opportunity to gauge who will be clinching the gold medals at the 2012 Games.
You can share this story on social media: