Political banner may cost South Korean footballer his Olympic medal
Published time: 13 Aug, 2012 18:18
Edited time: 13 Aug, 2012 22:18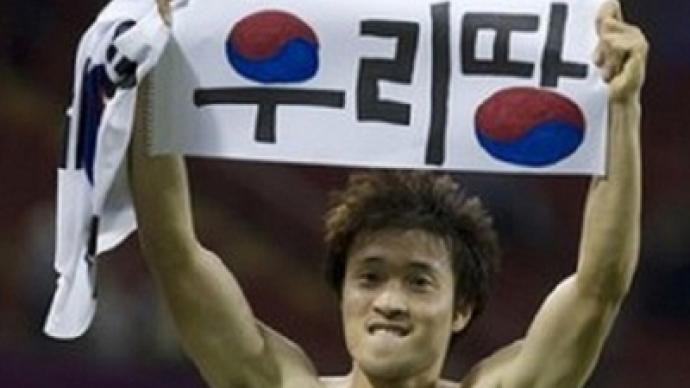 The Olympic bronze medal won by South Korean footballer, Park Jong-woo, is being withheld after he displayed a political sign while celebrating his team's victory against Japan.
­The International Olympic Committee barred the player from the medal ceremony, which took place at Wembley Stadium on Saturday.
A day before the South Korean squad beat their Japanese opponents 2-0 in the bronze medal match of the London Olympics.
The game went on amidst the resumption of tensions between the two countries over a disputed group of small islets in the Sea of Japan.
The banner displayed by Park consisted of the South Korean national flag and text supporting sovereignty of the Liancourt Rocks.
The 23-year-old midfielder won't see his medal until all disciplinary cases against him are completed.
According to IOC President Jacques Rogge, it's football's governing body FIFA who must decide on possible sanctions for the South Korean.
The regulations of both IOC and FIFA strictly prohibit any political statements on the pitch.