I'm still here: Kanaeva denies retirement reports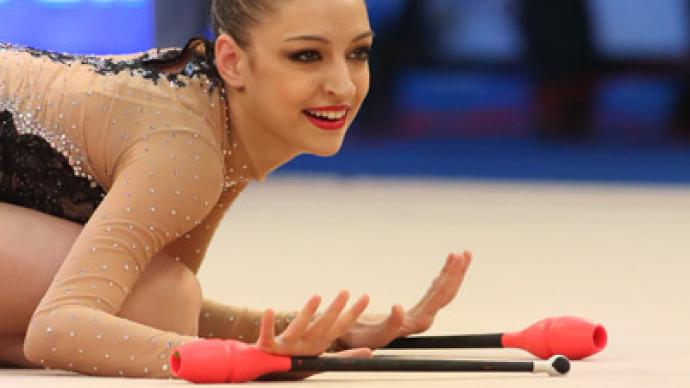 Despite all the reports of her quitting sport, two-time Olympic champion, Evgenia Kanaeva, says she hasn't decided on her future in rhythmic gymnastics.
The news of Kanaeva's retirement appeared on the All-Russian Rhythmic Gymnastics Federation's website and was considered an official statement to the media. But now the athlete says her words and actions were simply miss-interpreted by the people in the Federation. "I really have no plans of ending my career," Kanaeva told R-Sport news agency. "I'll decide on this later. There's still time. The most important thing is that I'm not being pressured. I'm told to take care of my health. I'll make the decision after I recover."The Russian has become the first woman to win two Olympic rhythmic gymnastics all-around titles in London 2012, but this historic success came at a high price.    "Besides the leg, I have back problems and a weakened immune system," the 22-year-old said. "Every athlete knows what it's like to go through an Olympic cycle. It is impossible to stay completely healthy, especially, when you must be at the highest level throughout the whole four years." Kanaeva hinted she might retire after being elected vice-president of the All-Russian Rhythmic Gymnastics Federation in December last year. "I also removed myself from the doping control list, which I had to inform of my whereabouts on a daily basis for the last five years," she explained. "I went abroad for treatment, and I didn't want to be bothered, so I said that I will not participate in the upcoming competitions. Maybe that's the reason why somebody decided that I quit."According to doctors, Kanaeva will require at least six months to fully recover from her injuries. Even if she stays in sport, the Russian is unlikely to take part in the 2013 World Championships, scheduled to take place in Kiev, Ukraine in August.
You can share this story on social media: