San Francisco Giants lift Baseball World Series trophy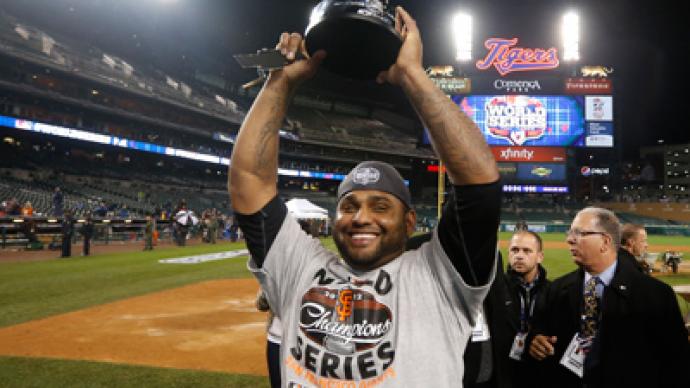 The San Francisco Giants have won their second Baseball World Series title in three years completing a four-game sweep of the Detroit Tigers.
The two teams were tied at three-apiece at the end of the ninth inning, but it was the Giants who got the winning score in the tenth.Ryan Theriot hit a single to right field, advanced to second base on Brandon Crawford's sacrifice and raced home on a two-out single by Marco Scutaro.Giants closer Sergio Romo then took to the mound and struck out Miguel Cabrera to seal the win."Detroit probably didn't know what it was in for," Giants general manager Brian Sabean said. "Our guys had a date with destiny." It is the club's seventh all-time World Series crown. They also handed the Tigers their seventh straight World Series loss since 2006. "Simple, they did better than we did," Tigers manager Jim Leyland said. "It was freaky. I would have never guessed we would have swept the Yankees and I would have never guessed the Giants would have swept us."The victory cost dearly for the city of San Francisco as celebrations turned into wild rioting. Thousands of frenzied baseball fans lit fires, overturned cars and rampaged through the city.