Douglas unreachable for Russia in artistic gymnastics individual all-around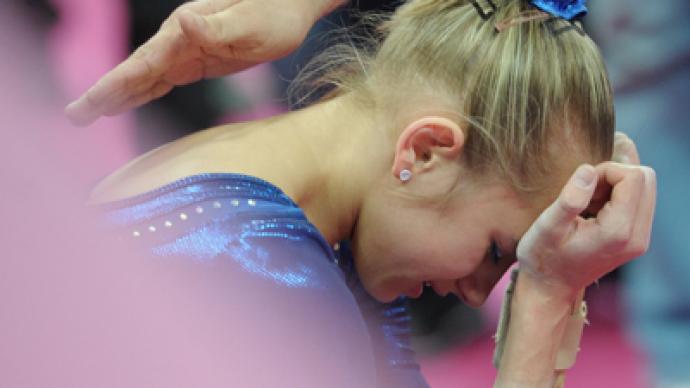 Gabby Douglas has added the all-around title to the one she won with the US team two nights ago. The American showed the most solid performance of the day, leaving two Russian hopefuls, Viktoria Komova and Aliya Mustafina, without gold once again.
The most crucial mistake was Komova's during the vault exercise. It resulted in her trailing half a point to Douglas. But the Russian was without flaw after that, narrowly beating her opponent in the remaining three disciplines, though the shaky start cost her too much as the American finished less than three-tenths ahead of her – 62.232 points against 61.973.Komova agreed that it was all decided at the vault afterwards. "I showed my best in all the other disciplines, but the first jump… If I had performed it the way I usually do, the final result could have been better," she said.Douglas became the third straight American to win gymnastics' biggest prize. Meanwhile, Komova's teammate Mustafina won another battle between Russia and the Team USA to clinch the bronze medal.With six men's and four women's events scheduled for August 5-7, the Russians still have a chance to taste artistic gymnastics gold in London.Elsewhere, there was finally some joy for Russia's shooters, who have had very little luck at these games so far. They came into the Olympics with high hopes for a number of medals but nothing had gone their way. There will be some relief though, as Vasily Mosin picked up a bronze following a shoot off for the final podium spot."I'm happy to claim a bronze medal. It's also Russia's first medal in shooting at these Games and I hope it can boost our results in other disciplines because we've got many fourth places and that's probably the worst place to finish," the Olympic bronze medalist in shooting double trap said.
Russia haven't had much luck in the swimming pool at these games either, but one of the country's most talented swimmers, Yulia Efimova managed to get a bronze in the women's 200m breaststroke. Rebecca Soni won that race and set a world record in the process.
And there was more joy for Russia's fencers as they managed to pick up a silver in the women's team foil, but they just didn't have enough to beat the Italians in the final, who won comfortably – 45-31.Finally, Russia will have its medal in women's tennis singles as Maria Sharapova and Maria Kirilenko both eased to the Olympic semis, beating Kim Klijsters and Petra Kvitova respectively in straight sets. On Friday, the two Marias will decide, who will represent Russia in the final, while American Serena Williams and Viktoria Azarenka of Belarus will clash for the second berth.
You can share this story on social media: