Legally blind South Korean archer sets first world record of London Olympics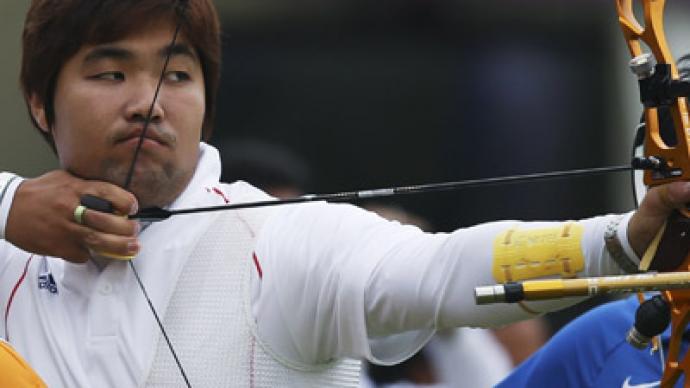 South Korean archer Im Dong-Hyun set the first world record of the London Olympics on Friday in the men's preliminary round held at the Lord's cricket ground.
Im scored 699 points from 72 arrows to beat his own record of 696 set in May this year.
The 26-year-old sportsman, who suffers from severe myopia, is legally blind in his left eye with 20/200 vision.
Compared to someone with perfect 20/20 vision, he needs to be 10 times closer to see an object. His right eye has 20/100 vision.
The Korean wasn't carried away by his achievement as the battle for the medals is still ahead."It's just the first round so I won't get too excited about it," Im is cited by Reuters as saying.  
The coach of the South Korean archery team, Jang Young-sool, was delighted by his men's display, as two of Im's teammates, Kim Bub-min and Oh Jin-hyek, scored 698 and 690 points, respectively.  "It was good weather to shoot," he stressed. "A world record gives us confidence for the rest of the competition."
Im will take on Emanuele Guidi in the first round, with the athlete from San Marino collecting 589 points in the preliminaries.  
The new world record holder is considered to be one of the favorites for the individual archery gold medal at London 2012.  
Im already has two Olympic medals in the bag after winning team gold at the 2004 and 2008 Games.