Blade Runner beats racehorse in 115m challenge
Published time: 13 Dec, 2012 10:00
Edited time: 13 Dec, 2012 14:00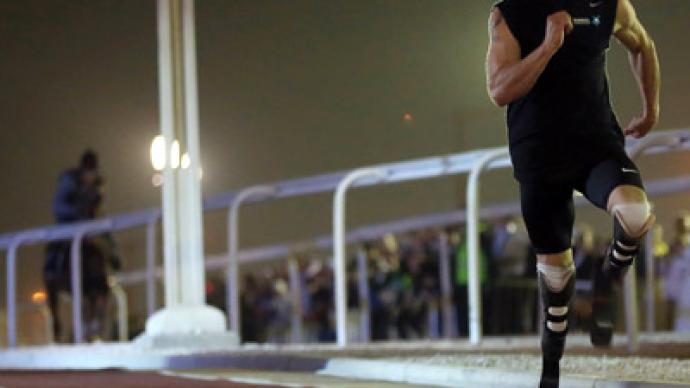 Star of both the Olympic and Paralympic Games this summer Oscar Pistorius has once again proven there is nothing impossible for him as the South African outran an Arabian horse named Maserati in a 115 meter race in Doha.
The athlete, who was born without the fibula bones in both legs and nicknamed the "Blade Runner" for his carbon fibre running blades, beat the Arabian stud in the 'Run Like The Wind Challenge' at the Aspire Zone outdoor venue.
Pistorius started 15 meters in front of Maserati and made full advantage of his opponent's sluggish start to cross the finish line first.
The athlete thus joined famous American sprinter Jesse Owens in an exclusive club of runners who have beaten a racehorse.
"It wasn't about who won today, it was about just coming out here and showing people that those with disabilities are not to be stereotyped," Pistorius said afterwards
"Thanks to everybody who came out here, we had a good night and hopefully that will do a lot to change perceptions of people with disabilities in this region," he added.
Oscar Pistorius, arguably the most famous Paralympian ever, reached the 400m semi-finals in London and also ran in the 4x400m relay final to fulfill his dream of competing in the able-bodied Games. He went on to claim two gold and one silver medal at the Paralympics a few weeks later.
Paralympic and Olympic runner Oscar Pistorius of South Africa races against a pure-bred Arabian horse during the Gathering of all Leaders In Sport (GOALS) forum on December 12, 2012, at the Aspire Zone outdoor circuit in the Qatari capital Doha. (AFP Photo/Karim Jaafar/Al-Watan Doha)
South Africa's Oscar Pistorius, an Olympics and Paralympics athlete, runs alongside a pure-bred Arabian race horse during the Doha GOALS (Gathering of all Leaders in Sport) forum at the Aspire Zone outdoor circuit in Doha December 12, 2012. (Reuters/Fadi Al-Assaad)