And the Sports 'Oscars' go to…Djokovic and Barcelona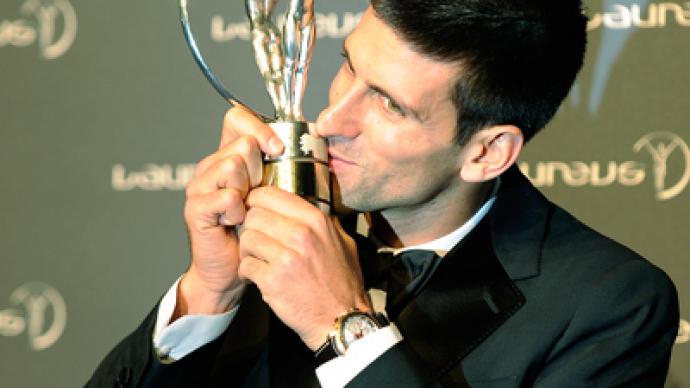 The Laureus Sports Awards ceremony, often called the sports 'Oscars', saw tennis World No.1, Novak Djokovic, named the World Sportsman of the Year.
The Serb, who took three Grand Slams in 2011 and won 41 matches in a row, picked up the prestigious prize at a ceremony in London.
And last month the 24-year-old clinched the Australian Open to become only the fifth man to win three majors in a row."I am beyond words to describe how I feel tonight," Djokovic after being handed the prize. "Just to be in the same room with the world's greatest athletes, whom I will allow myself to call 'Legends of Sport' is a great honor and privilege. Well, then, you can imagine how honored I feel right now to be entitled to hold this award, and to be called the World Sportsman of the Year. This award means a lot to me, my team, my family, and my fans around the world."
Long distance runner Vivian Cheruyiout was named Sportswoman of the Year after the Kenyan won the 5.000 and 10.000 thousand meters at last year's world championships in Daegu, South Korea.
FC Barcelona was honored as Team of the Year. The Catalans snatched their domestic football league for the third time in a row and triumphed in the Champions League for a third time in six years.
The award was accepted by club president Sandro Rosell.
English football legend Bobby Charlton, who was also honored for his Lifetime Achievements, praised the game Barca play.
"They have a philosophy and a passing system of play which everyone is expected to do and, unfortunately for the rest of us, they have the good players as well to actually make it happen," the 74-year-old said.
Another former footballer, Rai of Brazil, got the Sport for Good Award for his social justice campaign.
Two Irish golfers – youngster Rory McIlroy and veteran Darren Clarke – went home with prizes for best breakthrough and best comeback, respectively.
"Blade Runner" Oscar Pistorius received the Disability award, with US surfer Kelly Slater booking the Laureus Action Sportsperson of the Year.
You can share this story on social media: