Brew-haha: RFU and fans strive to bring back beer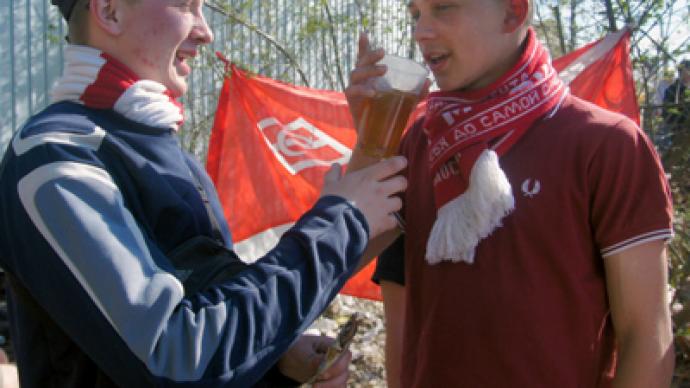 Head of the Russian Football Fans Union says the organization plans to urge the new State Duma to make amends to the law on alcohol and return beer to Russian stadiums.
The current law prohibits any kind of advertisement or sales of the frothy drink during football games. The place of beer producers has been recently taken by car manufacturers and pharmacists, which produced a mixed reaction within fan community.
"Beer producers are a major part of the game worldwide," says their official representative Aleksandr Shprygin. "They will definitely be among the sponsors at the World Cup in 2018, so the authorities will have to make the necessary amendments to the law. On the one hand, there has been a certain healthy life trend in the Russian fans community. But at the same time we shouldn't forget that they are one of the main beer consumers in the world."
Head of the Russian Football Union Sergey Fursenko echoes Shprygin.
"By 2018 we'll have to change the law. I'm personally not against it," he says.
"As for selling beer during football games, as far as I know, its sales volume in England reaches 1 million pounds during a Premier League game. Our clubs could earn up to $500,000 per year, which is a significant revenue to their budget," he stressed.

"Statistics say advertising beer doesn't result in additional alcohol consumption, but leads to redistribution of consumption. So the Russian Football Union will lobby the new law."