Ukraine calls for complete Olympic ban on Russians
Athletes from the country may be permitted to compete as neutrals at Paris 2024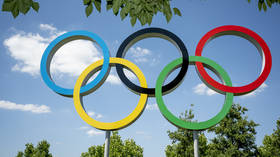 Ukrainian President Vladimir Zelensky has called on his French counterpart Emmanuel Macron to prevent Russian and Belarusian athletes from competing at next year's Olympic Games in Paris.
There have been significant restrictions imposed upon Russian sports since the International Olympic Committee (IOC) issued sanctions last year shortly after the onset of the military operation in Ukraine.
However, the IOC has appeared to be considering a return to the international sporting fold of athletes from both countries in Asia-based qualification events for Paris 2024, provided that they compete as neutrals and without national symbols such as flags and anthems.
Zelensky held discussions with IOC president Thomas Bach in December in which he said he was "upset" at the potential Olympic inclusions of Russian and Belarusian athletes – and he echoed this stance in a discussion with the French leader.
"I particularly emphasized that athletes from Russia should have no place at the Olympic Games in Paris," Zelensky wrote on Telegram.
Both Bach and Macron have stated recently that a path needs to be found which respects an athlete's right to compete regardless of the political stances of their government, with Bach saying last month that "we need to explore ways to overcome this dilemma with regard to athletes' participation and come back to the sporting merits, and not to political interference."
Macron also noted that "sport should not be politicized" and that "athletes from all countries, sometimes including countries at war" should be included in global events such as the Olympic Games.
Bach, though, has insisted that the current sanctions against Russia and Belarus must remain in place for the time being but that certain restrictions, such as a ban on the display of Russian or Belarusian flags must "remain firmly in place."
He added: "The question of the participation of athletes is very different from the question of sanctions for their government."
Paris will host the Olympic Games for the first time since 1924 next summer between July 26 and August 11, with the Paralympics starting on August 28.
You can share this story on social media: