Djokovic slams fake injury critics
The Serb has been battling a hamstring complaint throughout the Australian Open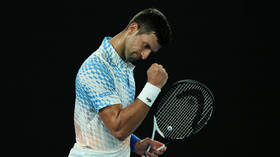 Serbian tennis star Novak Djokovic has fired back at critics who accused him of faking a hamstring injury at the Australian Open, saying it only gives him more motivation to claim a tenth title Down Under.
Djokovic, 35, will play Russia's Andrey Rublev in a Wednesday quarter-final match in the Rod Laver Arena as he hunts a tenth Australian Open crown and a record-equalling 22nd Grand Slam win.
However, his run through the tournament has come amid constant reports of a hamstring injury to his left leg, which prompted injury timeouts in his second- and third-round matches.
Nonetheless, Djokovic has proceeded through the event with relative ease to this point – and looked in impressive form in Monday's fourth-round clash with Alex De Minaur, losing just five games in an emphatic three-set win.
But his run through the tournament has come amid whispers that Djokovic has been overplaying the extent of the injury – an accusation which he says would only be applied to him.
"I leave the doubting to those people – let them doubt," he said.
"Only my injuries are questioned. When some other players are injured, then they are the victims, but when it is me, I am faking it. It is very interesting. I don't feel that I need to prove anything to anyone.
"I have got the MRI, ultrasound and everything else, both from two years ago and now. Whether I will publish that in my documentary or on social media depends on how I feel. Maybe I will do it, maybe I won't.
"I am not really interested at this point what people are thinking and saying. It is fun, it is interesting to see how the narrative surrounding me continues, [a] narrative that is different compared to other players that have been going through similar situations.
"But I am used to it and it just gives me extra strength and motivation. So I thank them for that."
Djokovic has overcome injury in high-profile tournaments in the past. He battled an abdominal complaint two years ago in Australia to eventually claim the title, and appeared to be in difficulty due to another injury against Andy Murray in the same event in 2015, only to recover and win.
However, injury knocked him out of Wimbledon in 2017 and the US Open two years later.
I hate how media will always create controversy and takes things out of context to make a headline. Got outplayed and outclassed yesterday. How about we focus on the tennis for once. I will get back to work and improve you can count on that. Thank you Australia ❤️

— alex de minaur (@alexdeminaur) January 24, 2023
Alex De Minaur, the man defeated by Djokovic on Monday, also waded into the row on social media, saying he got "outplayed and outclassed" but bemoaned that Djokovic's notoriety often focuses a media glare on outside-of-the-court allegations.
"I hate how media will always create controversy and takes things out of context to make a headline," he wrote on social media.
"Got outplayed and outclassed yesterday. How about we focus on the tennis for once. I will get back to work and improve. You can count on that. Thank you Australia."
You can share this story on social media: