Fans choose more Russians for NHL All-Star Game
Three Russian players were among the 12 selections unveiled by the league following a vote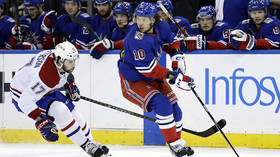 A trio of Russian players have been added to the lineup for the NHL's 2023 All-Star Game following a fan vote, it was revealed on Thursday. There are set to be nine Russians in total on the rosters for the four-team showpiece.
New York Rangers winger Artemi Panarin and New York Islanders goaltender Ilya Sorokin have both been voted onto the team for the Metro Division, the NHL announced. In the Atlantic Division, Tampa Bay goalie Andrei Vasilevskiy has been chosen by fans following a vote which closed earlier this week.
In total, 12 players were added to the rosters for the four NHL divisions, completing the 44-man list for the league's annual showpiece, which this year will take place at FLA LIVE Arena in Sunrise, Florida, on February 3-4. An All-Star Skills Show will be held on the first day, followed by the All-Star Game itself.
Earlier this month, six Russian NHL stars were named among the 32 players – one from each of the league's teams – who were initially selected by the league's Department of Hockey Operations as 2023 All-Star participants.
Washington Capitals leader Alexander Ovechkin was named on the Metropolitan Division roster, along with right winger Andrei Svechnikov of the Carolina Hurricanes. New York Rangers goaltender Igor Shesterkin – winner of the Vezina Trophy for the NHL's best goalie last season – is also in the Metropolitan Division ranks.
In the Atlantic Division, Russia's Nikita Kucherov will represent the Tampa Bay Lightning – and will now be joined by compatriot and teammate Vasilevskiy following the fan vote.
For the Central Division, left wing Kirill Kaprizov of Minnesota Wild was earlier selected by the NHL panel. Russia's Vladimir Tarasenko was also included on the initial Central Division roster, but the St. Louis Blues winger faces a race to recover in time from a hand injury.
The All-Star Game will be played in a 3-on-3 format, in a tournament featuring 11-player teams from each of the league's four divisions. There will be nine skaters and two goalies in each of the four teams.
You can share this story on social media: