Russian hockey star 'did nothing wrong' with LGBT snub – coach
A scandal continues to rage in the NHL after Ivan Provorov declined to wear a Pride-themed jersey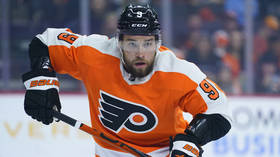 Philadelphia Flyers coach John Tortorella has defended Ivan Provorov after the Russian star opted not to take part in an LBGT campaign earlier this week. The incident has continued to provoke debate within the NHL after Provorov chose not to appear in a pre-game warmup.
"Just because you don't agree with his decision, it doesn't mean he did anything wrong," Tortorella told journalists when asked about Provorov, who featured in his team's 4-1 loss against the Chicago Blackhawks in Philadelphia on Thursday night.
"[Provorov] didn't actively seek out and try to make a stand against it [Pride Night]. He just felt he didn't want to [take part]… He's not beating a drum, he didn't say a word, he just wanted to go about his business," added Tortorella.
The row was sparked when Provorov, 26, declined to take part in a warmup alongside teammates before their game against the Anaheim Ducks on Tuesday. Players took to the ice in rainbow-themed jerseys and used sticks wrapped in rainbow tape as part of a 'Pride Night' campaign. Provorov, who is Russian Orthodox, later explained that he "respects everybody's choices" but that he wanted to "stay true to myself and my religion."
Provorov's stance has caused anger among some figures in NHL circles, with prominent pundit EJ Hradek even suggesting that the Russian should be removed from the country and sent home.
Elsewhere, however, reports have claimed that there is high demand for Provorov jerseys online following his decision.
Also commenting on Thursday, NHL commissioner Gary Bettman defended the league's position on LGBT rights, arguing that "a handful of players don't define what we do as a whole."
"At the end of the day, I think everybody knows what the league stands for in terms of our values, what the Flyers stand for in terms of their values, but in the final analysis, individual players are going to make their decisions and follow their beliefs," Bettman said.
Defensemen Provorov made his debut with the Flyers in 2016 and has spent his entire NHL career with the franchise.
You can share this story on social media: