Olympic sprint icon 'missing millions from investment account' – media
There are major discrepancies with an account belonging to Usain Bolt, according to a report in Jamaica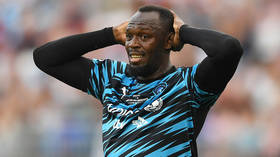 An investigation has been launched in Jamaica after Olympic sprint legend Usain Bolt was reportedly made aware that millions of dollars were missing from one of his investment accounts. According to local media, the scandal centers on Jamaican investment firm Stocks and Securities Limited (SSL), where a former employee has been implicated in fraud allegations.
Bolt's manager Nugent Walker confirmed the developments to national media outlet The Gleaner on Thursday, saying that Bolt had become aware of the issue one day previously and that police and financial specialists had been called in. "[Bolt] has been with this entity over 10 years... His entire portfolio is being reviewed," Walker added.
The Gleaner reported that a former SSL employee has been implicated in "massive fraud… including the missing sums from Bolt's accounts," although no further information was available, including on the exact amounts involved or the time period covered by the probe.
Bolt, 36, retired from competition following the 2017 World Championships in London. He won a remarkable eight Olympic gold medals during his career and remains the world record holder in the 100m and 200m.
Bolt was the biggest star in athletics by some distance during his racing days, banking a reported $33 million in 2016 alone through prize money, appearances and sponsorship. He boasts lucrative deals with companies including sportswear giant Puma, and his overall net worth is said to be around $90 million.
It was reported in August that Bolt had filed requests in the US to trademark images of his famous 'Lightning Bolt' celebration, with a view to selling merchandise and other products using the logo.
You can share this story on social media: