Russian NHL star flattens US rival with punch (VIDEO)
Debate raged after Mikhail Sergachev landed a heavy blow on Conor Garland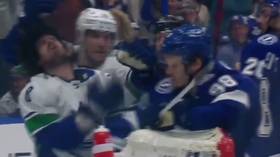 Hockey fans have clashed online after Russian defenseman Mikhail Sergachev of the Tampa Bay Lightning hit Vancouver Canucks rival Conor Garland with a big punch in their game on Thursday night. Some observers claimed Sergachev should have been punished for the blow, while others said Garland had it coming.
Tensions flared late in the third period of the Lightning's 5-4 win over the visiting Canucks at Amalie Arena when Garland swiped at Tampa's Russian goalie Andrei Vasilevskiy after he gathered a shot. Sergachev cleared Garland out, after which the American flailed a right hand which brushed the Russian's face.
Still wearing his gloves, Sergachev responded by planting a punch on the chin of Garland – who had lost his helmet in the melee. The winger immediately clutched at his face as he was sent down onto one knee.
The incident went unpunished on the ice – but ignited a fiery debate online. Some described it as a 'sucker punch' from Sergachev and claimed he should be sanctioned.
"The non-call for Sergachev sucker punch on Garland in last minute is just embarrassing. It's why people shake their heads at NHL officiating," claimed hockey reporter Iain MacIntyre on Twitter.
One fan claimed that Sergachev "should be gone from the game" for the move, with another asking: "How is this not a game misconduct [penalty] for Sergachev."
Others questioned that narrative though, saying Garland had initiated the incident. "Garland whacked the goalie after he covered the puck and then punched Sergachev first… Sergachev answered. Refs saw the whole thing so nothing was called," tweeted one fan.
"Garland just f**ked around with Sergachev and found out big time," said another. "Look at the video, Garland's hand grazes Sergachev's face right before he threw that right hook at him," added one observer.
Another fan defended the 24-year-old Sergachev by writing: "[He] answered the blow. It wasn't a dirty stab in the back. He didn't hit with a stick. He responded to a blow to his face."
The Lightning's Russian goalie Vasilevskiy made 36 saves during the game, while Tampa's Russian winger Nikita Kucherov scored and had an assist. The Lightning are third in the Atlantic Division standings, and next travel to the St. Louis Blues on Saturday.
You can share this story on social media: