Ovechkin sets NHL record for Russians
The Washington Capitals star reached another milestone in a season filled with records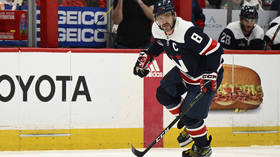 Alexander Ovechkin added another record to his name on Sunday night as the Washington Capitals star featured in his 1,317th game in the NHL, setting a new landmark for Russian players.
Although Ovechkin ended the game without a goal in the Capitals' 1-0 victory, he nonetheless broke new ground by overtaking Alexei Kovalev as Russia's all-time leading appearance-maker in the elite North American league.
Kovalev played 1,316 games in total during his time in the NHL from the early 1990s until 2013, most of which came at the New York Rangers, Pittsburgh Penguins, and Montreal Canadiens. In third place among Russians in the NHL is Sergei Fedorov with 1,248 games, the majority of which came at the Detroit Red Wings, although he also played with Ovechkin at the Capitals before leaving the league in 2009.
Ovechkin has been a one-franchise man since making his debut with Washington in 2005 and is still going strong at the age of 37. He will be backed to significantly add to his lead as Russia's all-time NHL appearance-maker, having signed a new five-year deal with the Capitals in the summer of 2021.
Ovechkin's landmark on Sunday is the latest in a series of milestones this season. The Washington captain moved into second place on the all-time NHL goals list in December when he scored for the 802nd time in the league, overtaking Canadian great Gordie Howe. Ovechkin has since added to that tally seven time, and ahead of him is only Wayne Gretzky on 894 goals.
At the Capital One Arena on Sunday, Ovechkin's team were indebted to a goal from Swedish defenseman Erik Gustafsson and a shutout from goaltender Darcy Kuemper – who made 38 saves – to give them victory over the Blue Jackets.
Next up for the Capitals is a trip to the Philadelphia Flyers on Wednesday night. After an indifferent start to the season, the Capitals have gained momentum and are 13-2-2 in their past 17 games, putting them third in the Metropolitan Division.
You can share this story on social media: