UFC boss discusses 'punishment' after being filmed slapping wife
Dana White indicated he would not face any formal penalty despite widespread anger over the incident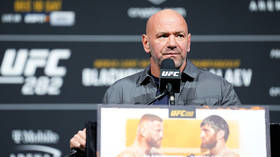 UFC president Dana White has said he will have to carry a "label" after being filmed slapping his wife, but suggested that he will not be formally punished by the organization or its parent company.
Facing the media on Wednesday ahead of UFC Vegas 67 this weekend, White was apologetic but said he had "owned" the incident in which he was seen slapping his partner Anne on New Year's Eve at a nightclub in Cabo, Mexico, after she had slapped him when he took hold of her wrist.
White said that meting out punishment to him would inflict more damage on others in the organization.
"What should the repercussions be? I take 30 days off? How does that hurt me?... Me leaving hurts the company, hurts my employees, hurts the fighters. It doesn't hurt me," said the UFC boss amid calls for him to be disciplined.
"Do I need to reflect? No, I don't need to reflect… I've been against this. I've owned this. I'm telling you that I'm wrong."
White said he had discussed the situation with Ari Emanuel, who is the CEO of UFC parent company Endeavor, as well as broadcast partner ESPN.
"Nobody's happy about this. Neither am I. But it happened, and I have to deal with it. And what is my punishment? Here's my punishment: I've got to walk around for however long I live – is it 10.4 years, or is it another 25 years – and this is how I'm labeled now," White added.
"My other punishment is that, I'm sure a lot of people, whether it be media, fighters, friends, acquaintances, who had respect for me, might not have respect for me now.
"There's a lot of things that I'm going to have to deal with for the rest of my life that are way more of a punishment than what, I take a 30-day, a 60-day absence? That's not a punishment to me. The punishment is that I did it, and now I have to deal with it."
The incident, which was shared in footage obtained by TMZ, emerged as White prepares to launch a new 'Power Slap League' which bears his name, and is set to be aired on TBS. The show has been pushed back from January 11 to 18, but it still scheduled for broadcast.
The UFC boss added that he did not expect to be defended by UFC fighters or employees, and that there was "no excuse" for his actions.
"All the criticism that I have received this week is 100% warranted and will receive in the future… You don't bounce back from this. You don't ever bounce back from this," White said, repeating the words he had famously used in a 2014 interview when discussing violence from men towards women.
Earlier this week, the California Legislative Women's Caucus rights group called for White's resignation in an open letter addressed to UFC parent company Endeavor, although that appears unlikely given White's latest comments.
You can share this story on social media: